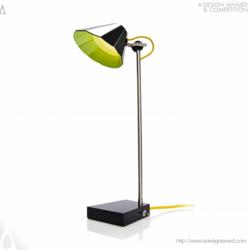 Como, Italy (PRWEB) July 07, 2012
A' Award and Competitions are proud to see that the design Didi by Magenta has been announced as a winner of the prestigious Platinum A' Design Award at Lighting and Lighting Projects Design Competition highlighted as the winner by the esteemed referees of the A' Design Awards & Competitions amidst numerous nominations.
More information on Didi
Ronen Bavly, the lead creator of the winning design Didi explains "Didi is a handmade product by Magenta. Through a playful study of folding and reopening of ellipse shapes, like the figure of a pleated skirt, we found the eventual cone, whereas the "folding" lines became light slits. The lamp employs a LED bulb. Its small measures help to retain the lamps' miniature figure and its aesthetic value. The Lamp shade is the direct heat reducer of the Light bulb, thereupon although made purely out of metal it is possible to touch it all over" Learn more and download high-resolution photos at: http://www.adesignaward.com/design.php?ID=24617
Creative Team for Didi
Didi was designed by Ronen Bavly, Ornit Arnon, Michal Kum, Miki Morrali, Tzvi Citron, Nino Biniashvili
The Platinum A' Design Award
The Platinum A' Design Award is a prestigious award given to top 1% percentile designs that has delivered an exemplary level of quality in design. The designs are judged by a panel of three different jury which is composed of Academic, Professional and Focus Group Members. The designs are evaluated with score normalization to remove any biases and are voted on aspects such as functionality, ergonomics, engineering, presentation, innovation, usability, fun details, technology, and any other specific points that could be considered, each of these points are further weighted for different jury groups.
About A' Design Award and Competitions
A'Design Award and Competitions, aims to highlight the excellent qualifications of best designs, design concepts and design oriented products. A' Design Award and Competitions are organized and awarded annually and internationally in multiple categories to reach a wide, design-oriented audience. Learn more: http://www.whatisadesignaward.com