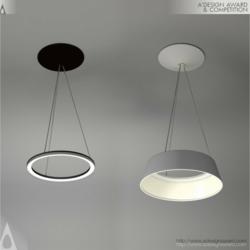 Como, Italy (PRWEB) July 08, 2012
A' Award and Competitions are pleased to share that the project Le Lumiere by Rob van Puijenbroek has been honored with the noteable Golden A' Design Award at Lighting and Lighting Projects Design Competition marked as a winner by the esteemed judging committee of the A' Design Awards & Competitions within a great number of projects.
Regarding Le Lumiere
Rob Van Puijenbroek, the designer of the winning project Le Lumiere demonstrates "Le Puij presents the Play Collection. A series of furniture intended for a project set-up. Playful, cheerful and stylish. Each piece has been designed with high quality, flexibility and individuality in mind. And within one module size, so that all the elements are easy to combine with each other. A 'lampless' lamp which produces different atmospheres with its two lampshades. The lampshades are easy to swap, and come in white and black." Learn more and download high-resolution photos at: http://www.adesignaward.com/design.php?ID=24046
The Golden A' Design Award
The Golden A' Design Award is a prestigious award given to top 3% percentile designs that has carried out an exemplary level of quality in design. The designs are judged by a panel of three different jury which is composed of Academic, Professional and Focus Group Members. The designs are evaluated with score normalization to remove any biases and are voted on aspects such as functionality, ergonomics, engineering, presentation, innovation, usability, fun details, technology, and any other specific points that could be considered, each of these points are further weighted for different jury groups.
About A' Design Award and Competitions
A'Design Award and Competitions, aims to highlight the excellent qualifications of best designs, design concepts and design oriented products. A' Design Award and Competitions are organized and awarded annually and internationally in multiple categories to reach a wide, design-oriented audience. To learn more visit: http://www.whatisadesignaward.com