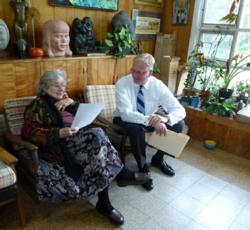 Rockland, ME (PRWEB) July 06, 2012
The Farnsworth Art Museum (farnsworthmuseum.org)is proud to announce Dahlov Ipcar as the recipient of the 2012 Maine in America award. The award, now in its seventh year, is granted by the Farnsworth Art Museum's Presidents Council to honor an individual or group who has made an outstanding contribution to Maine's role in American art. This year's presentation will occur at a private ceremony hosted by the Farnsworth's Presidents Council. The previous winners of the Maine in America award were John Wilmerding (2006), Andrew Wyeth (2007), Will Barnet (2008), Robert Indiana (2009), Alex Katz (2010) and Paul Caponigro (2011).
Domestic and jungle animals have always been a source of inspiration for Ipcar, whose intricate patterns and geometric designs became her artistic signature. The Farnsworth Art Museum currently has eleven of Ipcar's works in the collection, as well as a number of her children's books which she has signed for the Library's rare books collection. Her works in the museum range from books to lithographs of antelopes, tigers, and birds, to an oil painting of cats and tigers, to a fabric sculpture of a giraffe.
Since her first solo exhibition at the Museum of Modern Art in New York City in 1939, Ipcar's works have been collected by art institutions that include the Metropolitan Museum of Art, Whitney Museum of American Art and the Brooklyn Museum of Art in New York City. Her work is in collections of the leading art museums of Maine, as well as in many corporate and private collections throughout the country. In 1972, Ipcar and her husband Adolph together received the Maine Governor's Award for "significant contributions to Maine in the broad field of the arts and humanities." She has also received honorary degrees from The University of Maine and Colby and Bates colleges. In April 1998, The University of Minnesota honored Ipcar with The Kerlan Award for Children's Literature in recognition of the dozens of children's books she has illustrated throughout her career. The Farnsworth is proud to be honoring her remarkable contributions to American art with the Maine in America award.
The Farnsworth Art Museum celebrates Maine's ongoing role in American art. It offers a nationally recognized collection of works from many of America's greatest artists, with 20,000 square feet of gallery space and over 13,000 works in the collection. The Farnsworth has one of the largest public collections of works by sculptor Louise Nevelson, while its Wyeth Center features works of N.C., Andrew and Jamie Wyeth. The National Register-listed Farnsworth Homestead, the Olson House, a National Landmark, and Julia's Gallery for Young Artists complete the museum complex. Please visit http://www.farnsworthmuseum.org for more information on current exhibitions, programs and events.