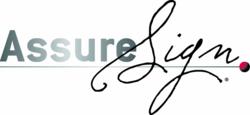 Windows Azure's worldwide datacenters, elasticity, and flexible implementation options give AssureSign customers reliability, geographic flexibility, and the advantage of AssureSign's ability to quickly increase capacity.
Orlando, Fla. (PRWEB) July 09, 2012
AssureSign LLC (http://www.assuresign.com) is an Altamonte Springs, FL based traditional ISV that was founded in 2008. It is an innovative provider of electronic signature solutions that help organizations of all sizes and across all industries save time and money by eliminating costly shipping fees and speeding up the signing process. Their solutions enable documents to be signed and returned within minutes, and tracked throughout the process.

Problem: Increasingly, controlling costs, and lowering the time of sales workflow in the enterprise are driving greater acceptance of electronic signature processes. AssureSign has met this need with its own hosted SaaS offerings and on-premise installation options for larger enterprises. However, the infrastructure requirements for expansion due to increased electronic signature volume and the need for geographic flexibility, as well as the upfront costs of the infrastructure for enterprise clients looking for on-premise installations still require upfront investment that delays implementation of these processes.
Solution: AssureSign has moved to add components that run on Microsoft Corp.'s Windows Azure, including worker roles for backend document processing, web roles for expansion of capacity of front end customer interfaces (including document electronic signing interfaces), and using Windows Azure BLOB Storage and SQL Azure. AssureSign multi-tenant clients benefit from increased reliability, geographic flexibility, and faster capacity growth by running their components on the AssureSign Windows Azure instances. Enterprise clients find that a private Windows Azure instance of AssureSign bridges the cost gap between large infrastructure purchases required for on-premise installs and SaaS environments, while ensuring isolation of data and processes required by IT.
Benefit: AssureSign finds value in using Windows Azure by being able to offer quicker spin-up of private Windows Azure-based cloud instances of single-tenant AssureSign installations, and is able to rapidly spin up increased worker and web roles as needed to match new capacity requirements in its multi-tenant offering.
"With Xpertdoc already leveraging Microsoft Azure for our own cloud offering, we need to ensure our technology partners can keep up with the accelerated pace of adoption and greater expectations of fast turnaround time and elastic capacity" said Francis Dion, Xpertdoc CEO. "This is why we were elated to see AssureSign getting into the Azure platform themselves. The switch of our AssureSign configuration to Azure has been totally seamless for us, and we look forward to continue offering a compelling experience to our mutual customers by taking advantage of the full complement of Microsoft cloud technologies."
"Windows Azure's worldwide datacenters, elasticity, and flexible implementation options give AssureSign customers reliability, geographic flexibility, and the advantage of AssureSign's ability to quickly increase capacity," said Helene Love Snell, Director, Server and Tools Marketing, Microsoft. "We look forward to working with AssureSign."
About AssureSign LLC
AssureSign LLC is a Silver Depth Managed Microsoft Partner and a leading provider of web-based and on-premise electronic signature software, enabling users to obtain both written and verbal authorizations. AssureSign provides the most integrated and feature-rich APIs available and features a unique, patent-pending technology allowing for the execution of any document with forensically identifiable, biometric signatures or typed 'certified' signatures. AssureSign is a highly secure and flexible "cloud computing" application, and the only e-signature provider with a four year track record of providing customers with 99.99% uptime in a multi-site data center with SSAE 16 (formerly SAS 70) Type II certification extending to all aspects of the enterprise. Using the standards-based DocumentNOW® and DocumentTRAK™ integration tools, AssureSign can easily integrate with existing business processes within any enterprise, regardless of size. AssureSign's experience extends over 11 years and comprises more than 150 million unique signature events. AssureSign customers consistently experience dramatic cost savings, as well as significant reduction in the time to execute documents. For more information visit http://www.assuresign.com or follow AssureSign on Twitter at twitter.com/assuresign.
###