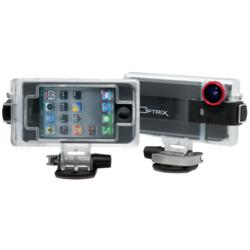 Optrix is a game-changer in the action sport camera market
Malvern, PA (PRWEB) July 10, 2012
SportHiTech announce the immediate availability of the latest revolutionary Optrix rugged case and mount for iPhone 4/4S - the Wide Angle Optrix XD. Optrix cases allow iPhone 4/4S users to safely use their phones as HD Action cameras at a fraction of the cost of dedicated action cameras, and with many advantages.
Joining the successful Optrix HD Case system released earlier this year, the Optrix XD adds a 3-element wide-angle lens (175 degree) capability for those who prefer a wider angle view, and an upgraded anti-vibration sled for the iPhone that doubles as a protective case for the phone. The Optrix HD and Optrix XD will be available concurrently and have interchangeable mounts, allowing consumers the choice of lens angles.
Both Optrix HD and Optrix XD are a combination of hardware and iPhone apps. The basic app is free, while the enhanced app adds data displays to the recorded footage using the very sensitive GPS and accelerometer built into the iPhone. A sled that allows the XD to be used with 4th generation iPod Touch will be available shortly.
The designers of Optrix have created a case that will allow the iPhone to be used as a camera under extremely rugged conditions. The case is tested to military spec: MIL-STD-810F.
The Optrix XD system, comprising the all-weather case, an anti-vibration sleds for iPhone 4/4S, a curved base, a flat base, and a quick release handle, is available now for $99.99 including shipping from SportHitech here or on Amazon here.