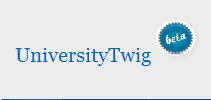 Read university reviews, write review, earn money and write articles
(PRWEB) July 10, 2012
Over the past few years many countries including the US and UK have taken steps to facilitate and promote higher education in their region as well around the world. Despite these efforts, there are countless students who fail to live their dreams of higher education due to lack of help and guidance in this aspect. Understanding the absence of an accessible and affordable higher education guide, UniversityTwig aims to build a complete and comprehensive university and college information database with the help of actual students.
The website is currently in its beta phase. Inviting students to write article, university reviews and college reviews based on personal experience, the website aims to serve as a platform for local students as well as those who wish to study abroad. Through this platform, students would be able to communicate discuss, share and find more comprehensive answers to all their questions and problems. This will help numerous students to find a more suitable and affordable university/college for them.
Explaining the inspiration behind this prudent idea, the spokesperson for UniversityTwig said, "What is wrong with the usual educational guides and websites is that they only offer information they think would be sufficient enough for a student. There are questions and confusion that remain unanswered. We wanted to create a far more productive platform for students around the world to find help and offer help as well."
The major feature of the site is the review section which features authentic and honest reviews coming directly from the students of a university or college. The website offers review writers the freedom to share their views regarding the campus, the education, the faculty and the fee structure. These candid reviews give a far more clear idea than the usual details offered on the institute's own website or prospectus.
UniversityTwig was created in the best interest of students, a fact proved by the website to give students a chance to earn money through reviews. "We want to give them as much benefit and advantage of using this website as possible. That includes monetary advantage. We allow students to keep the money earned by the ads on the review. Whenever a reader clicks an ad on your review, you get money for that."
Other than articles and college reviews, students can also submit photos of their university in order to give other students a better idea of life at the campus. These photos and reviews are also added to the university profile in the University section. This section also serves as a search and comparison tool to find the most affordable university either on campus or online.
Another worth mentioning fact about University Twig is its brilliantly simple and easy to navigate interface. From the homepage, users can jump directly to the Whiteboard where they will find all the latest updates, articles, review and information added to the website. "We will provide our users with the most latest and authentic information. Whiteboard is where they can keep a check for the latest updates."
UniversityTwig is getting a commendable amount of appreciation from students and institutes alike. Hailed as a comprehensive guide and platform available for students around the world, it is expected to facilitate efforts to promote higher education on a global level.
For more information regarding online university reviews and opportunities to study abroad, please visit http://www.universitytwig.com
About UniversityTwig
UniversityTwig is an online platform which offers students with credible and useful information regarding universities and colleges in the US and UK. The website invites university students to write article, college reviews and share information through other means such as pictures and discussion forums. The website is created in an attempt to help students find an appropriate and suitable higher education institute.
For more Details visit website:
http://www.universitytwig.com