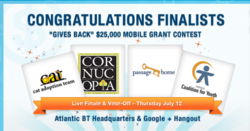 Raleigh, NC (PRWEB) July 09, 2012
The inaugural Atlantic BT "Gives Back" Grant Contest is days from awarding its first grant to one of four worthy nonprofits. The national contest, launched in April, drew 41 applicants from across the country who were eager to have a shot at $25,000 worth of mobile strategy and technology services to further their causes.
Twelve semi-finalists were selected by an independent panel of judges in the nonprofit field. Nine of the 12 semi-finalists submitted unique videos, which were then voted on by over 11,000 people in order to select our four finalists:
Passage Home - Raleigh, NC
Cornucopia Cancer Support Center - Durham, NC
California Coalition for Youth - Sacramento, CA
Cat Adoption Team - Portland, OR
All three of the finalist runners-up will receive up to $6,250 towards the completion of their proposed mobile projects.
The July 12th event, hosted at Atlantic BT's Raleigh headquarters, will involve a live pitch from each nonprofit. All pitches will be streamed in real-time over the Internet via Google+ hangout. Live and online voting begins at 7:00 ET and will remain open for 45 minutes. The $25,000 Mobile Grant Winner will be announced at 8:00 PM.
Atlantic BT, one of the Southeast's leading full-service web development firms, was inspired to launch the national "Gives Back" grant contest to help raise awareness of the importance of mobile investment throughout the nonprofit and business sectors.
For over ten years, Atlantic BT has been widely recognized for its web design and software development talent. Recently, the firm formally introduced extensive mobile expertise to its mix of services, including mobile strategy, mobile application development, mobile websites, and mobile marketing.
About Atlantic Business Technologies Inc.
Atlantic Business Technologies, Inc. works with companies and organizations that consider their web and mobile applications and websites critical for business. We partner with our clients to help them grow and thrive online. Atlantic BT has a team of nearly 70 professionals who manage custom, end-to-end solutions for over 1,000 clients. Our solutions include content delivery, data management and visualization, mobile apps and marketing, e-commerce, application development, business grade web hosting, web strategy, and all facets of Internet marketing. To see how we work, visit http://www.atlanticbt.com.