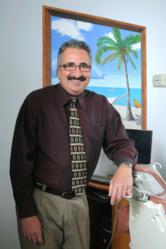 Monroe, CT (PRWEB) July 08, 2012
Dr. Richard Amato, a CT Periodontist in Monroe, is using dental implants as an option for his patients who have missing teeth due to gum disease or other issues. Implants have been used successfully for more than 20 years and have proven to be a long-term solution to the problem of missing teeth. Dr. Amato's patients find that the procedure gives them an alternative to other methods of replacing teeth.
If his patients are missing teeth, CT Periodontist, Dr. Amato, will first educate them on the different methods or treatments that can be used for replacing those teeth. The dental implant method uses an implant that consists of three distinct parts. The titanium implant is the part that is actually placed in the jawbone through a surgical procedure. Next is an abutment that fits over the top of the implant that sticks out of the gum, and the crown is attached to the abutment. The crown is color matched to the patient's other teeth so that it looks like a natural tooth.
When a person has all of his or her natural teeth, the jawbone is usually healthy. However, when teeth are missing or have been extracted, it opens up the bone to the possibility of becoming weaker or eroding. Dental implants can provide the same stability to the jawbone that natural teeth provide. Because technology has advanced over the years, nearly everyone is a candidate for dental implants. Dr. Amato realizes how embarrassing it can be to have missing teeth, and he also understands the future implications of weakness to the jawbone that can occur.
CT Periodontist Dr. Amato helps his patients understand how important a long-term solution to the problem of missing teeth really is. Dental implants can work for most patients, and each patient is evaluated on an individual basis to determine what the best procedure is based on their needs. Some patients may require additional treatments prior to receiving dental implants. For additional information on how the dental implant works, please visit the Dental Implants page on our website.
About the Doctor
Dr. Richard Amato is a periodontist offering patients personalized dental care for Monroe, Connecticut. Dr. Amato received his Doctorate of Dental Surgery degree from Stony Brook University where he was awarded the School of Dental Medicine Department of Periodontics Award for Excellence in Periodontology. Dr. Amato completed a specialty post-doctoral residency and received his Certificate of Proficiency in Periodontics from Eastman Dental Center at the University of Rochester. He is part of one percent of dental professionals providing the most recent FDA cleared laser procedure for gum disease and periodontal treatment. To learn more about Dr. Amato and his dental services visit his website at http://www.connecticutperiodontist.com and call (203) 712-0917.