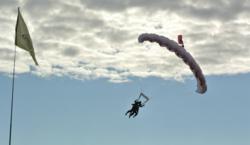 the Alzheimer's Charity is close to the hearts of the Agilaflex Clinic team as many of them know somebody who has been affected by this disease
Winchester, Hampshire (PRWEB UK) 9 July 2012
Winchester-based Agilaflex Clinic, which provides a full range of chiropractic, osteopathy and physiotherapy services, is celebrating after helping to break the Guinness World Record for the number of tandem skydives in one day. And in doing so raised £4,500 for the Alzheimer's Society.
The team from the clinic, that is headed up by chiropractor Kari Duggleby joined 160 other parachute jumpers at Hinton Airfield, Brackley on the 5th of July. Event organisers MGM Advantage paid for exclusive use of the airfield for the day to ensure that all money raised went straight to the Alzheimer's Society.
After a 7am start the previous World Record of 130 jumps was beaten by 2pm. With the final number of jumps being registered as a Guinness World Record of 160.
According to Kari, the opportunity to be part of the world record skydiving attempt was a unique experience.
"We're delighted to have been part of achieving this World Record. The skydiving was truly memorable. And the Alzheimer's Charity is close to the hearts of the Agilaflex Clinic team as many of them know somebody who has been affected by this disease. It is fantastic that our patients, friends and family have come out in support of our effort. Said Kari.
She added: "At Agilaflex Clinic we have a brilliant team that works closely in providing care for our patients. So this has been a great opportunity to take time out from a busy clinic schedule and do something together outside of the Clinic."
Natalie Bettinson, Alzheimer's Society Community Fundraiser for Hampshire and the Isle of Wight added: "'There are currently 17,986 people living with dementia in Hampshire. Dementia is caused by diseases of the brain and can affect anyone. We are really grateful to the staff at Agilaflex Clinic for taking on this challenge and for being so enthusiastic about raising awareness for Alzheimer's Society. As a charity we rely on events like these to raise vital funds to support people to live well with dementia today and fund research to find a cure for tomorrow."
About Agilaflex Clinic:
Agilaflex Clinic is based in Winchester and offers chiropractic, osteopathy and physiotherapy services under one roof.
With a dedicated team of specialist clinicians the clinic focuses on providing a comprehensive service for anyone suffering back, neck or joint pain.
Offering over 30 years experience collectively, clients can be assured of the highest level of treatment when attending the clinic.
Agilaflex Clinic
Tel: 01962 853984
http://www.agilaflex.co.uk