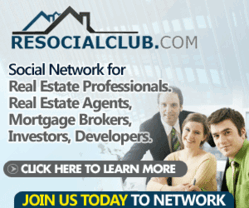 FREE Ipad-Iphone-MP3
(PRWEB) July 08, 2012
RESocialClub.com has yet another exciting announcement for the real estate professionals and all those who have been associated with the real estate industry – the opportunity of winning exciting prizes every month. The social networking site, meant for the real estate professionals, invites all builders, developers, and real estate agents etc. to participate in this monthly contest and stay a chance of winning several gifts such as iPhone, iPad, MP3 Players etc. These latest and useful gadgets will be delivered for free to the winner's house. The RESocialClub.com Monthly Competition has been posted by one of its members Yanni Raz and all costs related to the competition will be covered by RESocialClub.com.
Being very confident about the competition's success, Yanni Raz reveals, "This is yet another bid by RESocialClub.com to grow its network. The idea is to share the success with its members that this social network has achieved in very short span of time." He further reveals that one needs to join the network in order to become eligible to participate in the competition. However, a new member must be in the real estate business, as the network is an exclusive community of the real estate professionals. In order to win the competition, a member needs to add at least 50 new members in a month to the network. More details about the competition can be accessed through the video posted by Yanni Raz. You can view this video on the Home page http://www.RESocialclub.com
RESocialClub.com has been growing very fast and this competition seems to be an effort by the website to offer some incentives to its members and create an excitement across the network. While existing members will take this as website's efforts to honor their loyalty to the network, new members will find such a competition an inspiring reason to be part of the network. The competition is on now and a significant number of members are participating in it, claims the website. As expected, the membership of the network is also growing and takes the site quite closer of its goal of being one and only social network of real estate professionals.
RESocialClub.com has been exclusively conceptualized and designed for real estate professionals, and from time to time, it brings exciting networking and business and brand building opportunities for its members. For being a part of this wonderful social network and take advantage of its unique offerings, please visit http://www.resocialclub.com/. To learn more about its monthly competition and to participate in it, please watch the video at: http://resocialclub.com/videos/7519/130/resocialclub-com-competition-amazing-monthly-giveaways.
About RESocialClub.com
RESocialClub.com is the first social media platform, designed exclusively for real estate professionals. A registered real estate member can host their profile and start networking with other members and agents via online chat. Members can view each other's profiles and update them. They can utilize the blog and forum features to post their queries which are then answered by experienced real estate professionals. They have several unique features that help in increasing communication and knowledge among all members. The website is maintained by experienced web developers who ensure constant improvement in features for the benefit of members from the real estate industry.
For more details, you may log on to http://www.resocialclub.com/.