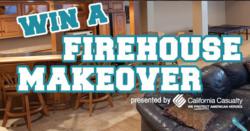 "Firehouse Makeover was created to honor the hard work and sacrifice of firefighters everywhere. First responders dedicate their lives to the service of others, and now it's our turn to serve them." - Mike McCormick, Vice President of California Casualty
San Mateo, CA (PRWEB) July 09, 2012
California Casualty announces a sweepstakes to recognize and reward America's hard working firefighters for their dedication and tireless service.
Any qualified firefighters currently living in the United States can enter the "Firehouse Makeover" sweepstakes. One lucky firefighter will win the Grand Prize: A complete Firehouse Makeover valued at up to $15,000 for their base firehouse! The makeover will include a complete overhaul of the living quarters, working areas, and personal areas of the winning firehouse, including all new Maytag appliances.
In addition, 44 deserving firefighters (one in each state California Casualty serves) will win the First Prize of a "Thank You" BBQ for up to 25 people at their base firehouse!
"The Firehouse Makeover was created to honor the hard work and sacrifice of firefighters across America. First responders dedicate their lives to the service of others, and now it's our turn to serve them. California Casualty is proud to protect the homes and automobiles of firefighters across the country, and now we're going to improve the second home where firefighters spend so much of their time." says Mike McCormick, Vice President of California Casualty. "Where slashed budgets have delayed or eliminated station upgrades, California Casualty comes to the rescue with the Firehouse Makeover."
Firehouse Makeover is made possible by the generous underwriting of California Casualty, co-sponsored by Maytag, and supported by Sherwin-Williams, Body by Jake and Omaha Steaks.
To enter the "Firehouse Makeover" sweepstakes, qualified firefighters can visit http://FirehouseMakeover.com before October 31, 2012. No purchase is required.
California Casualty provides auto and home insurance to the most valuable and dedicated members of our society, including nurses, educators, law enforcement personnel, and firefighters.
For media inquiries, please contact Marty M. Fahncke at FawnKey and Associates at 1-888-643-8215 or pr(at)fawnkey(dot)com.
About California Casualty
California Casualty is a 98-year-old policyholder-owned company headquartered in San Mateo, CA with service centers in Arizona, Colorado and Kansas. More information about their auto and home insurance for firefighters, peace officers, educators, and nurses can be found at http://www.calcas.com.
###