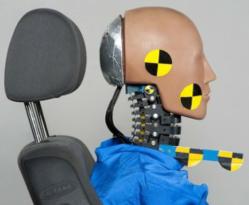 (PRWEB UK) 6 July 2012
Taking the sting out of whiplash with a good head restraint.
One of the UK's largest motor insurers, estimates hundreds of thousands of whiplash claims could be prevented each year with better head restraints and seats in UK cars.
Axa carried out research, in conjunction with Thatcham, into the cars on the UK's roads and estimates that only 34% have head restraints and seats that would be categorised as "good" when it comes to reducing the risk of the driver being the victim of whiplash injuries.
In the UK, over 1500 claims for whiplash are made per day – 570,000 per year – costing the insurance industry £2bn per year in payouts.[3] If 65%[4] of these could be avoided through better head restraints and seats this could mean a reduction of 370,500 claims costing around £1.3bn.
And consumers are increasing the risk for themselves through their own negligence. Only 39% of people ever adjust their head restraint while 26% of people say they don't even know how to adjust it.[5] 23% of drivers say that they have been shown how their head restraint should be set – 13% when they bought their car.
Tips on reducing whiplash risk:
·Make sure the head restraint is set at the right height for oneself; to be effective, a head restraint must be as close to the back of the head as possible (touching is best) and the top of the restraint should be as high as the top of the head. Remember it is a head restraint, not a headrest
·If the car has a very old or 'spongy' restraint, look at replacing it or buying an add on pad
·Bring the seat to an upright position that will set the head restraint just behind the passenger's head
·Sometimes hats/hair accessories can make a head restraint feel uncomfortable. But for safety the headwear should be removed rather than the head restraint pushed back
·If anyone is thinking of buying a new car, check out the Thatcham rating for considering the right models
Business car insurance policies require drivers to take all possible steps to make their vehicles as safe as possible and that includes correctly using any head restraints fitted. Any company car driving advice is a useful source of help and guidance.
businesscarmanager.co.uk