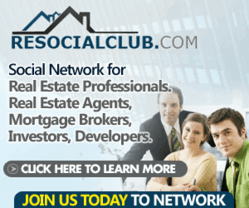 (PRWEB) July 08, 2012
RESocialClub.com has truly become synonymous to uniqueness and innovation, with every now and then new valuable features being added to the website in order to offer convenience, values and cutting-edge business and social networking advantages to its members. Recently, the website has announced about the redesigning of its website that is focused around more advertisement and social networking benefits to its members. Now, members of RESocialClub.com can add their ads to advertising platforms automatically from the site itself. This feature will add more visibility to the classified ads posted by the members on the site.
Another great feature that the newly designed RESocialClub.com intends to facilitate to its members is the connectivity of Facebook. Now, members can connect directly to their Facebook profiles from the website. No need to login to your Facebook account separately, by logging in to your RESocialClub.com member's account, you can check updates or post messages on your Facebook page.
Several members of the website are quite excited about the opportunity of enjoying Facebook connectivity from the website itself. One of them revealed, "It will help us to keep our social media profiles better organized and updated. We can check our Facebook updates from RESocialClub.com itself and this saves us from logging in to our Facebook profile separately. While it saves our time, it keeps us better organized. We welcome this innovative feature by RESocialClub.com."
Addition of new features is being seen as the website's efforts of providing new-age advertisement and social networking advantages to its members. With the advantage of staying connected with their Facebook profiles, members can quickly respond to the leads they would receive on their FB page. Moreover, properties posted on the website can directly be uploaded on the Facebook profile page and this will save their lots of time of posting their ads separately on Facebook or any other advertising platform.
All members are finding new features as quite advantageous for them. Besides existing members reiterating their trust on the website, new members are also joining the website, claims RESocialClub.com. These new features will expand the network further bringing more real estate processionals to its fold, it's being expected.
About RESocialClub.com
RESocialClub.com is the first social media platform, designed exclusively for real estate professionals. A registered real estate member can host their profile and start networking with other members and agents via online chat. Members can view each other's profiles and update them. They can utilize the blog and forum features to post their queries which are then answered by experienced real estate professionals. They have several unique features that help in increasing communication and knowledge among all members. The website is maintained by experienced web developers who ensure constant improvement in features for the benefit of members from the real estate industry. Recently, the website has been redesigned to offer the features of Facebook connectivity and other advertising platforms.
For more details, you may log on to http://www.resocialclub.com/.