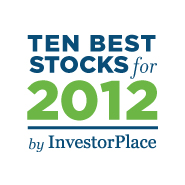 Rockville, MD (PRWEB) July 09, 2012
After a tough second quarter for stocks, Capital One topped the InvestorPlace.com 10 Best Stocks for 2012 Buy List with the highest year-to-date return as of the market close on June 29. This list is a free resource for individual investors containing buy-and-hold recommendations from 10 market experts that was first published in December 2011.
In the first quarter, eight of the stocks ended in the black with five trumping the S&P 500's best quarterly performance since 1998. And despite the market's nasty turn in the second quarter, 7 of the 10 stocks ended the first half of 2012 in positive territory. Five of the stock picks topped the Dow's 5.4% year-to-date returns, and four ended up with double-digit gains, surpassing the S&P 500's 8.3% YTD returns.
Here are the top five stocks on the 10 Best Stocks for 2012 list as of the market close on June 29:
#1: Capital One; 29.2% YTD return; recommended by Philip van Doorn, banking and finance analyst for TheStreet.com. Capital One was busy with acquisitions, buying ING Group's ING Direct for roughly $9 billion and HSBC's roughly $30 billion U.S. credit card portfolio for a $2.6 billion premium. These moves made investors nervous and shares spiraled in June, but they picked up to end the quarter with only a slight loss while maintaining a 29.2% gain year-to-date.
#2: Microsoft; 17.8% YTD return; recommended by James Altucher, founder of Stockpickr.com. Microsoft shares slowed after reaching a 52-week high, but the stock still ended the first half of the year with double-digit returns that nearly doubled the S&P 500's. Plus, its valuation, one of Altucher's reasons for picking the stock, remains low, the company sits on piles of cash, and its 2.6% dividend remains attractive to investors.
#3: Hershey; 16.6% YTD return; recommended by Jon Markman, award-winning financial journalist, newsletter writer and trader. With first-quarter earnings crushing analyst expectations and coming in 32% higher than last year's figures, investors have been furiously buying up the stock.
#4: FedEx; 9.7% YTD return; recommended by Paul La Monica, CNNMoney editor and author of The Buzz market column. FedEx is a fundamentally strong, low-risk stock. And while it was flat for the second quarter after posting a poor forecast for the dog days of summer, it still outperformed the S&P 500 during the first six months of the year.
#5: Turkcell; 6.7% YTD return; recommended by Charles Sizemore, money manager and editor of The Sizemore Investment Letter. Turkish telecom company Turkcell remained solidly in the black even with its ongoing power struggle among its board of directors, and missing its dividend payout and a special shareholder meeting scheduled for June. However, a settling of the dispute likely would result in a return to the dividend, which Sizemore believes could boost the stock.
To view the complete list of the 10 Best Stocks for 2012, visit: http://www.investorplace.com/best-stocks-for-2012/.
About InvestorPlace.com
InvestorPlace.com is a leading financial news and investing site, providing millions of individual investors with access to free stock picks, mutual fund research, market news and sharp, actionable commentary. InvestorPlace Media is privately owned by Avista Capital Partners, with offices in Rockville, Md., just outside Washington, D.C.