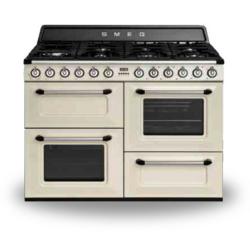 (PRWEB UK) 8 July 2012
Smeg are a manufacturer more known for their contemporary chic than classical indulgence, but their new Victoria model goes some way to redressing the balance. Recessed door panels and characterful control knobs inject a distinctive, well, Victorian feel to the cooker, while the branding on the stylish hob upstand maintains an element of the contemporary. Available in either cream or black finishes the cooker is pretty striking visually, and the specification is equally as impressive.
A 7 function oven on the top right is accompanied by a 6 function oven on the bottom left, each oven offering fanned or conventional cooking, a grill and an easy clean enamel interior lining the generous 63 litre cavity. The separate grill cavity houses a variable 2.7kW grill for closed door grilling, leaving the fourth cavity (bottom right) as functional storage space. Seven gas burners sit on the hotplate, including a powerful 4kW ultra rapid burner, and robust cast iron pan supports continue the period feel. Standard accessories for the Victoria include a Teppenyaki griddle, grill trays and trivets and partial telescopic shelves – extra shelves will be available as optional extras, as will a pizza stone and pizza shovel.
The Smeg Victoria will appeal to those looking for a classically styled cooker to sit perfectly in a traditional kitchen environment, but who also want both the kudos and the reassurance of owning a Smeg appliance. Price is yet to be confirmed but is expected to retail at around £2200.
For more information on Smeg range cookers visit Rangecookers.co.uk.