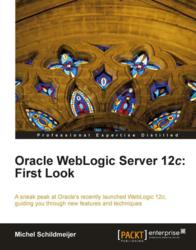 Understand the position and use of Oracle WebLogic 12c in Exalogic and the Cloud
Birmingham, United Kingdom (PRWEB) July 07, 2012
Packt Publishing is pleased to announce Oracle WebLogic Server 12c: First Look, a new book and e-book which provides a concise and practical first look to immediately get the reader started with Oracle Weblogic 12c.
Michel Schildmeijer, the author, is an Oracle Fusion Middleware Architect at AMIS, with focus on technical infrastructure, Serverside solutions, installing, administering, configuring the Oracle Fusion Middleware stack. His experience is from integrations at telco´s using Oracle AIA, Oracle Portal, OID, Forms&Reports, and Discoverer up to the latest Oracle WebLogic 12c releases.
Oracle Weblogic 12c is Oracle's number 1 strategic Application Server - able to run on both cloud computing systems and conventional ones. Oracle WebLogic 12c implements the new JAVA EE 6 standard and supports JAVA SE 7, and this book will guide the reader through all the new features, enhancements, and tools inside the new 12c release.
This book will enable the user to Master the new deployment and configuration features within Oracle WebLogic 12c and learn to work with other components like OVAB, Oracle Traffic Director, and the Exabus Layer.
Some of the principal chapters emphasized in this book are:
Chapter 1: Ready for the Cloud!
Chapter 2: Supporting the Java EE 6
Chapter 3: Deployment, Installation, and Configuration Features
Chapter 4: Integrated and External Services
Chapter 5: Integration and Management with Enterprise #Manager 12c Cloud Control
Chapter 6: Oracle WebLogic 12c to the Cloud: Exalogic
Written in a simple, easy-to-understand format with lots of screenshots and step-by-step explanations, this book is for WebLogic Server administrators or developers excited about the new features introduced in the 12c version.
Packt Publishing has also released other titles:

Oracle Coherence 3.5 (Published 2010)
Oracle Service Bus 11g Development Cookbook (Published 2012)
EJB 3.0 Database Persistence with Oracle Fusion Middleware 11g (Published 2010)
BPEL PM and OSB operational management with Oracle Enterprise Manager 10g Grid Control (Published 2010)
All Oracle books are published by Packt Enterprise. Packt Enterprise is a publishing division of Packt Publishing created to serve the information needs of IT Professionals in the Enterprise space. Packt Enterprise also publishes on Microsoft, IBM, Oracle, Citrix, Java, Amazon, Google and SAP technologies.