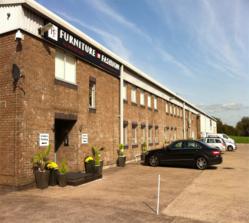 FurnitureInFashion increases its manufacturing plant in Germany to meet the customer demands
(PRWEB UK) 31 July 2012
FurnitureInFashion is very excited to announce an increase in its manufacturing plant in Germany to cater the increasing demand of furniture. FurnitureInFashion will be able to produce more furniture products with an increase in the production capacity of its manufacturing plant. This will help in avoiding any unprecedented shortage in furniture faced by the customers. Over the years, FurnitureInFashion has witnessed an increase in demand for its products. This has provoked the company to expand their manufacturing plant. Asad, while unveiling the expansion plan of its German based plant said, "There is an enormous amount of rebuilding work going on and we are now in a tremendous position to capitalize on this growth."
Asad Shamim, the owner of FurnitureInFashion launched a successful online retail business venture in 2008. FurnitureInFashion is an online retail business and one of the UK's largest furniture suppliers. It supplies everything from umbrella stands, wall art and room dividers to bar stools, computer tables and bedroom furniture. The company has been an immense success with a turnover of £2m. FurnitureInFashion has employed 18 people at various important business functions. Asad explains that the effective search engine optimization has helped FurnitureInFashion to expand its business globally. The effective SEO helped the company to secure very lucrative business contacts in Iraq.
FurnitureInFashion has a central warehouse located in Germany where high quality German manufactured furniture is offered at very competitive prices. The warehouse in Germany covers an area of 500,000sq ft. and is fully equipped with modern machinery and manufacturing processes to produce high quality products. Every item is thoroughly scrutinized in order to ensure quality and durability before it leaves the warehouse. Due to an increase in demand around the globe, FurnitureInFashion is now planning to expand its German based warehouse plant.
FurnitureInFashion is receiving many orders from different business clienteles around the world that include bulk orders from Iraq. Talking about the growing business of FurnitureInFashion, Asad Shamim said, "We have been able to win many business deals with authorities in Iraq via a UK agent through the internet. We have completed a £60,000 contract to supply furniture to the Al Najaf International Hotel in Baghdad. We have been able to win a further £120,000 order from Iraq to ship office furniture to the Iraqi authority of education. This expansion eventually has made us plan an expansion in our manufacturing plant in order to fulfill the big business deals and residential contracts." Asad also added that the contract with Iraq was FurnitureInFashion's first international contract which has made the company a recognized furniture supplier to Iraq.
FurnitureInFashion has always worked towards bringing quality by using best German manufacturing processes at extremely competitive prices. This has increased the demand of their furniture throughout the world which has encouraged the expansion plans by the company. Asad said, "We are also planning to expand our showrooms in some of the biggest cities in the UK which will be backed by the expansion of our manufacturing plant. We will be able to display more furniture items at our different showrooms by increasing the production capacity."
FurnitureInFashion provides excellent customer and delivery services. The company is dedicated to expand its customer service division to provide proper guidance to its customers. The website of FurnitureInFashion is very comprehensive and offers easy browsing along with all other information. Asad Shamim is very hopeful and positive about winning other businesses in future due to company's uncompromising approach towards quality and innovation. With the increase in the manufacturing plant, FurnitureInFashion will be able to target more cities in UK and supply its fabulous furniture all over the world. For further details about the different showrooms of the company and the broad range of products offered, visit http://www.furnitureinfashion.net.