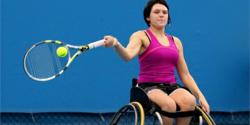 Esther is a great player, but what makes her stand out is her mental toughness, and going out onto the court knowing she's won hundreds of matches
(PRWEB) July 09, 2012
With her phenomenal record of 42 Grand Slams, 22 year-end championships and five Paralympic titles, Dutch wheelchair tennis star Esther Vergeer seems like a shoo-in for gold at London 2012.
But 20-year-old British player Jordanne Whiley insists all the medals are up for grabs. "It's not like Esther is The Terminator or anything," says Whiley. "She's only human after all. She's difficult and I'll have to work hard and push myself for it but beating her isn't impossible."
When the pair played in the final of the test event at Eton Manor in May, Whiley was defeated in two sets but she was just pipped 7-5 in the first. "That match was really close and looking back I should have taken it," she remembers. "But it's hard to have tactics against someone like Esther when she has no visible weaknesses."
However, Whiley believes there might be the odd chink in Vergeer's armour. "She's got a new chair that she's not fully satisfied with, so that's definitely an advantage for me," says Whiley. "And also there are a few of her shots that I know are slightly weaker than others."
But rather than look for flaws in her opponents' technique, Whiley is concentrating on her own skills. "I need to work on my game more than anything," she says. "If I perfect my game then Esther Vergeer will be struggling against me!" And to help make that happen, Whiley's training programme is grueling in the run-up to London 2012. She's putting in the hours in the hope that her mean backhand slice will be sharper than ever.
"My coach says if I come off court and vomit then that's a good day's training," she reveals. "Most of the time it's true – I either have stomach cramps or I'm about to vomit. That's how intense it is."
But it's not just Esther who's a strong contender in the wheelchair tennis, but the Dutch women collectively. 'They have a great coach in Aad Zwaan – he's one of the greatest coaches I've ever seen," says Whiley. "I actually went over to train with them last year and they were doing six hours a day with hardly any breaks. And it's clearly working for them."
While Esther dedicating some serious time to her training, Whiley believes the key to her success is all in her head. "Esther is a great player, but what makes her stand out is her mental toughness, and going out onto the court knowing she's won hundreds of matches," she says. "She defended gold medal point in Beijing to come back and win, so she has that mental ability over everyone."
But with the crowd behind Jordanne Whiley in London in September, the best bet for gold is anyone's guess.

For all your latest news ahead of the 2012 Paralympics, follow @C4Paralympics on Twitter and like the C4Paralympics Facebook page