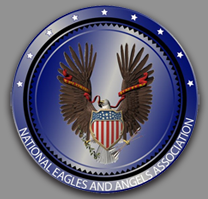 Houston, TX (PRWEB) July 06, 2012
The National Eagles and Angels Association, an association of individual investors, held their quarterly investors meeting in Houston, Texas last Thursday, June 28, 2012. The meeting featured Doug Hewitt, the CEO of Richfield Oil and Gas, a Utah based oil and gas exploration company. Joining him was Dr. William Donovan Chairman and CEO of Spine Pain Management Incorporated to talk about their technology and innovation in the spine injury industry.
Dr. Donovan of Spine Pain Management discussed their "medical services and technology company" which aids people who have "sustained spine injuries resulting from traumatic accidents." The company stressed the importance of the product to create "new business" for doctors, an important factor given the effects of Obamacare. The company calls their signature technology, which separates them from others, a 'Quad Video System' with a 'Video Halo Unit'. This unit allows for a tamperproof video of procedures that can be used in a court of law in an injury lawsuit situation.
Mr. Doug Hewitt of Richfield Oil and Gas discussed his company's holdings and oil and gas projects in both Utah and Kansas with a cumulative 2,944 acres of land. They highlighted the supply of oil in these holdings and laid out their future goals. Doug Hewitt, the CEO of Richfield Oil and Gas then transitioned to the potential that the company has found in Utah stating that the "U.S. Geological Survey estimates up to three trillion barrels" reside in the area.
About National Eagles and Angels
The National Eagles and Angels Association (NEAA) is a nationwide alliance of qualified individual investors each accepting the high risk while anticipating the potential high returns that can be commensurate with investment in entrepreneurial growth companies. NEAA members actively seek out these future American success stories, not only to reap rewards from their research and diligence to do so, but also for the opportunity to reward the risk-takers and entrepreneurs who have made the necessary commitment it requires to build true, enduring companies – which for more than two centuries have served to fuel innovation and promote the just ideals and practices of capitalism, the backbone of the American economy.
About Richfield Oil & Gas COmpany
Salt Lake City, Utah based Richfield Oil & Gas Company is a publicly held independent oil and gas company engaged in the exploration, exploitation, acquisition and production of crude oil and natural gas in the United States. The Company's core areas include the Central Utah Over Thrust where Richfield is the operator and majority working interest owner of approximately 20,000 net acres. Richfield has further exposure to low risk development drilling for oil and natural gas in the Central Kansas Uplift Project where the Company focuses principally on optimizing production in its oil projects where it leases over 3000 net acres. Please visit http://www.richfieldoilandgas.com for additional information.
About Spine Pain Management, Inc
Spine Pain Management, Inc. delivers turnkey solutions to Spinal Health Care Providers for necessary and appropriate treatment for musculo-skeletal injuries resulting from accidents at work and/or accidents. By providing early treatment, health conditions are prevented from escalating and injured victims are quickly placed on the road to recovery. SPIN's patient advocacy is gratifying to patients who obtain needed relief from painful conditions