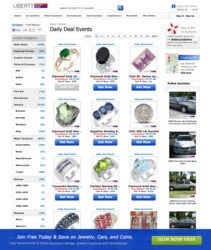 In one to two years, LibertyAuctionHouse.com should be a window that you have open on your computer all week
Chicago, Illinois (PRWEB) July 06, 2012
LibertyAuctionHouse.com, known for their free police auctions, took the daily jewelry deals business online last month to introduce a faster buying experience for its users.
In that short time, the free police auction information site has hosted 1000 events, from a act diamond ring that was followed by a ancient coin from the time of christ.
In a presentation to the media earlier this month, InterWeb Ecom's co-founder and CEO Michael Strom said he wants LibertyAuctionHouse.com to be e-commerce explosion for our jewelry and coin enthusiasts.
"In one to two years, LibertyAuctionHouse.com should be a window that you have open on your computer all week," Strom said. "There has to be that integrated commerce platform for Wholesale Jewelry commerce, and it's LibertyAuctionHouse."
But LibertyAuctionHouse.com is not just drifting away from auctions. Online auctions are a very important piece of what the site is about.
While Liberty Auction House focuses on funding and curating sale events, InterWeb Ecom Inc. is on the road of becoming a serious technology company by building software, such as online social sites and payment technologies aimed at the online merchant.
InterWeb Ecom says it also has plans to test out at least two methods in the payments and social space this season, but it is not as interested in developing any hardware, and would rather utilize 3rd party solutions for now.
With different approaches to the online market, what the daily deals market will look like in two to three years?