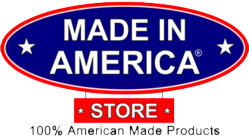 Mark Andol, owner of the Made In America Store, knows to keep consumers interested they need variety!
(PRWEB) July 07, 2012
The Made In America Store is turning to its customers and fan base to help them find a lead to an all USA made pencil company. The all American made product store currently carries a handful of office supplies, but hopes to increase their inventory with a 100% American made pencils.
Vendors from all over the nation have sent and requested different products, ideas, companies and manufacturers to the Made In America Store in hope to expand inventory. Ever since the initial opening of the store in 2010, customers have loved the store but all shared the same thought; get more products.
"Mark Andol, owner of the Made In America Store, knows to keep consumers interested they need variety!" Janet Snyder, Host of Western New York Living in Buffalo, New York.
With the all-American made store trying to stock more "everyday items", one of the first departments that come to mind is office supplies. Currently the Made In America Store carries Scissors, Envelopes, Sticky Notes from Allied Flag and even coffee mugs, but now the search is one for a 100% made in the USA pencil.
Consumers who are willing to aid in the search can email the Made In America Store at info (at) saveourcountryfirst (dot) com or call 716-652-4872 and talk to a Made In America Store representative.
As most Americans already know, majority of our products made are manufactured overseas. Staples, three hole punches, paper clips and mostly everything else is made in China. With a big percentage of jobs in the United States being white collar desk jobs, making the transition to American made office supplies will not only boost our economy, but will certainly create jobs.
The Made In America Store would like to encourage any vendors, inventors or even manufacturers that have 100% American made items to contact the store!
The Made In America Store is located at 900 Maple Road in Elma, New York and is committed to selling 100% American manufactured products. You can visit http://www.MadeInAmericaStore.com for more information or shop our catalog of over 3,500 products from over 290 vendors that are devoted to producing USA made products. All US military personnel, both active duty and veterans, receive a discount every day. Consumers can also keep up to date news articles, events, photos and contests with Facebook, Twitter, Google+, Pinterest and Tumblr!