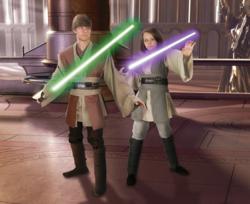 Star Wars fans have never had such a unique interactive costume experience.
Conyers, GA (PRWEB) July 11, 2012
It was announced today at San Diego Comic-Con International by Museum Replicas Limited, that fans and collectors of the Star WarsTM Saga will be able to live these galactic adventures through a new costume line called Become Your Own Jedi. The Lucasfilm licensee will be releasing a high-end line of mix-and-match garments, allowing the consumer to create their own unique Jedi costume.
This new product line debuts today at San Diego Comic Con International. Now, for the first time, fans can design and create their own complete and totally unique Jedi ensemble, utilizing replica costume pieces from the Star Wars films. All of the costume pieces in this collection were designed directly from the screen-used clothing, housed at the Lucasfilm Archives. Months of study and research have gone into making these costumes as close to the on-screen counterparts.
In addition, Museum Replicas has launched an online Jedi Interactive Design Lab. Customers will be able to mix-and-match the various components of apparel, configuring hundreds of possibilities, while seeing their final Jedi creation take shape before their eyes! Dave Di Pietro, Director of New Product Development says, "Star Wars fans have never had such a unique interactive costume experience. The remarkable popularity of high-end collectibles and costumes for discerning Star Wars enthusiasts is constantly growing."
Whether fans decide to be a Padawan or Jedi Master, Museum Replicas knows that everyone will have a fun experience building their original Jedi character.
Museum Replicas has developed, manufactured and distributed collectible, limited-edition replicas of wearable costumes from the Star Wars Saga. This new line of costumes is available now through their website http://www.museumreplicas.com and can be seen in person at their showroom in Conyers, GA.
About Lucasfilm
Lucasfilm Ltd. is one of the world's leading film and entertainment companies. Founded in 1971, it is a privately held, fully integrated entertainment company. In addition to motion picture and television production, the company's global businesses include visual effects, sound, video games, licensing and online activity.
About Museum Replicas
Museum Replicas Ltd. along with their partner company, Windlass Steelcrafts are recognized as a worldwide leader in the design, manufacture and marketing of fine collectible products. With headquarters in Conyers, Georgia, they sell their products in over 14 countries around the world. Current licenses include: Star Wars, Harry Potter, Frank Miller's 300, Monty Python and the Holy Grail, Assassin's Creed I and II, The Wheel of Time and The Lord of the Rings.
Contact
Museum Replicas Ltd. 1-770-922-7500
Robin Chaudhuri, Product Sales & Distribution x17
Eric Holden, Interactive Marketing Manager x 44
© 2012 Lucasfilm Ltd & TM. All Rights Reserved.