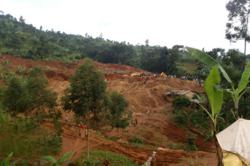 There is a great need for emergency shelter for these families. In one family, both parents lost their lives in the disaster and six children are now orphaned.
Sarasota, Fla. (PRWEB) July 06, 2012
ShelterBox, an international disaster relief organization that provides emergency shelter and lifesaving equipment to disaster survivors worldwide, has had a ShelterBox Response Team (SRT) assessing the need for aid in Uganda, where 4,000 people have been affected by landslides in the villages of Bunakasala and Bunamulembwa.
Some families have had their homes swept away; many have been evacuated; and hundreds more households have been deemed at risk.
"When the landslide happened, most of the children were at school and many people were at the market. It was unclear how many people had been hit," said George Matia, the local community leader in the Bududa district in Uganda.
A member of Bunwalukani Parish was high on the hillside on the day the landslide happened and saw the crack appear in the morning, then informed the village elders and reported it to the local authorities. Just a few hours later, thousands and thousands of tonnes of earth shifted. A river of mud ran down the hillside for approximately half a kilometer, burying some families and forcing many others from their homes.
"There is a great need for emergency shelter for these families," said UK-based SRT volunteer, Fiona McElroy. "In one family, both parents lost their lives in the disaster and six children are now orphaned."
ShelterBoxes have been sent from prepositioned stock in Dubai and are en route to the disaster zone, bringing the surviving families not just shelter, warmth and dignity but also a new sense of community and hope.
The SRT is committed to keeping families as close together as possible and will work with Matia and the local community to make that happen. Plans are being made to set up tents close to their homes.
"We hope to be putting tents up early next week, which will enable the villagers to live back together," said UK-based SRT member, David Webber. "They will also be able to clear the school where people have been sleeping, enabling the children to return to study.
"Most of the water supply has been completely destroyed. One spring was submerged by the landslide and the other has been contaminated. There is already cholera in the area so the water filtration equipment in the ShelterBoxes will help relieve the situation."
ShelterBox is working with the Uganda Red Cross Society (URCS), which has agreed to act as consignee for the aid and will provide volunteers to help set up the tents when they arrive.
The SRT has received vital assistance from Fred Kusolo Wallimbwa from the Child Development Foundation, who has acted as a local guide and interpreter and has been instrumental in finding a solution. The local Rotary club in nearby town Mbale has also provided invaluable logistical help, including the provision of transport.
"The people are very clear that they want to remain in their local district. They do not want to be moved away from their tribe," added Matia. "We are very grateful to ShelterBox for their help."
Images are available on ShelterBox's Flickr page.
Since 2000, ShelterBox has provided shelter, warmth and dignity following more than 180 disasters in over 80 countries. ShelterBox instantly responds to earthquake, volcano, flood, hurricane, cyclone, tsunami or conflict by delivering boxes of aid. Each iconic green ShelterBox contains a disaster relief tent for an extended family, stove, blankets and water filtration system, among other tools for survival. ShelterBox's American affiliate, ShelterBox USA is headquartered in Sarasota, Florida. Individual tax-deductible donations to ShelterBox USA can be made at http://www.shelterboxusa.org, (941) 907-6036 or via text message by sending SHELTER to 20222 for a one-time $10 donation.