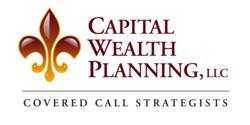 Generate income by selling covered calls on your existing stock positions.
Naples, Florida (PRWEB) July 10, 2012
Capital Wealth Planning, LLC (CWP), one of the most specialized independent third-party money managers in the country that focuses on covered call writing strategies has announced that it will re-open its Concentrated Stock Overlay Service.
The Covered Call Overlay Strategy seeks to provide a modest income stream through covered call writing on existing concentrated equity positions.
Many High Net-Worth Investors may have significant exposure to particular stock positions that they are precluded from selling for a variety of reasons. CWP's Concentrated Stock Covered Call Overlay can help investors monetize the volatility of these concentrated equity holdings by selling out-of-the-money call options on the underlying securities. CWP's investment program can generate a modest additional income stream, supplementing the total return of the underlying security.
CWP provides a high level of service. Financial Advisors and their clients have direct access to the firm's principals and portfolio managers.
"Working with Capital Wealth Planning and one of our covered call specialists we can customize a strategy designed to meet a client's investment objectives and risk parameters," said Kevin Simpson, President of Capital Wealth Planning. "CWP monitors all open option positions on an ongoing basis and continually seeks to maximize income enhancement from the concentrated positions. Unlike many traditional covered call techniques, we target monthly expirations. We identify and "dial in" the most appropriate and richest yields and write our calls accordingly. As the underlying stocks move with the market, we constantly analyze all overwrite call positions to allow our clients to participate in up-trends. As the stocks approach our Strike Prices, we can sell the shares or roll-up the options and adjust our targets."
For more information, please visit http://www.capitalwealthplanning.com. For media requests, please contact Kevin Simpson at 239-593-2100 or ksimpson(at)capitalwealthplanning(dot)com.
About Capital Wealth Planning, LLC
Capital Wealth Planning is a boutique investment management firm dedicated to helping investors, financial representatives and institutions navigate a dynamic investing market. Through actively managed and risk-budgeted strategies highlighting covered call strategies, CWP helps investors protect their assets without sacrificing portfolio growth, delivering products and solutions to achieve the best possible portfolio management.
Capital Wealth Planning works with institutions and financial advisors to manage individual client portfolios, and has more than $300 million in assets under management. For more information, visit http://www.capitalwealthplanning.com.