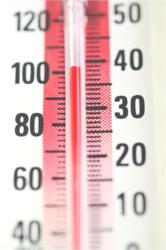 Taking precautions to stay cool, hydrated and informed helps to prevent serious health effects, such as heat exhaustion or heat stroke during extreme heat.
Lincoln, RI (PRWEB) July 06, 2012
A dangerous and deadly heat wave continues to smother much of the country, with more record-breaking temperatures forecast through the weekend. News reports indicate at least two people have died as a result of the extreme temperatures so far, so Amica Insurance is sharing this list of symptoms of heat-related illness and some important safety tips.
"Extreme heat affects all of us but the most vulnerable are the elderly, those who work or exercise outdoors, infants and children, the homeless or poor, and people with a chronic medical condition," said Christopher J. Portier, a spokesman for the U.S. Centers for Disease Control. "Taking precautions to stay cool, hydrated and informed helps to prevent serious health effects, such as heat exhaustion or heat stroke during extreme heat."
Some symptoms of heat-related illness include nausea, dizziness and heavy sweating. Get victims to a cool, shady area as soon as possible and provide cool, nonalcoholic beverages, according to the CDC. If the person is having trouble breathing, loses consciousness or vomits, call 911 immediately. He or she may be suffering from heat stroke, which can be life-threatening.
The CDC recommends air conditioning as the best way to prevent heat-related illness and death. People who don't have air conditioning at home may want to seek relief with family members or friends, or even at a local mall. Many communities also offer heat-relief shelters.
The CDC also offers these safety tips for dealing with the heat:

Wear light-colored, loose-fitting, breathable clothing.
Stay indoors as much as possible. Try to limit outdoor activity to morning and evening, and rest often in shady areas.
Drink often to stay hydrated, and avoid drinks with caffeine, alcohol or sugar.
Take cool showers or baths.
Never leave children or pets in a closed, parked vehicle.
Protect yourself from the sun with a wide-brimmed hat, sunglasses and sunscreen – SPF 15 or higher. Put on sunscreen 30 minutes before going outside, and reapply it as directed.
Use the stove and oven less to keep your home cooler, and try not to eat hot or heavy meals; they add heat to your body.
Michael Gillerlane, a senior assistant vice president with Amica Insurance, recommends checking on elderly relatives, friends and neighbors at least twice a day, to help ensure their health and safety during extreme heat spells.
"It's unusual to have this many record-breaking heat waves so early in the summer," Gillerlane said.
"But it's important to keep these safety tips in mind over the next few months, since there are many more hot days to come."
For more information on heat safety, visit http://www.cdc.gov.
About Amica Mutual Insurance
Amica Mutual Insurance Company, the nation's oldest mutual insurer of automobiles, was founded in 1907. The company, with corporate headquarters in Lincoln, RI, is a national writer of automobile, homeowners, marine and personal umbrella liability insurance. Life coverage is available through Amica Life Insurance Company, a wholly owned subsidiary. Amica employs more than 3,100 people in 40 offices across the country.
Twitter: Amica
Facebook: Amica Mutual Insurance Co.