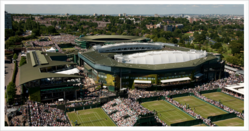 (PRWEB UK) 8 July 2012
The Wimbledon 2012 final is set to take place this Sunday and after Rafael Nadal being defeated in the second round to Lukas Rosol, it looks as though we should be expecting the unexpected. Even Andy Murray has predicted the final will be a shocker this year.
Wimbledon have launched an impressive new website design which has been designed with the fans in mind. It is easy to navigate and has everything there including latest news, scores, draws, schedules that are easy to find. And also has a live stream that broadcasts daily, meaning their fans can watch live footage online. The website also includes links to their Facebook page, Twitter page, You Tube and RSS Feed, they are a vital tool to getting more people connected to their pages on Social Networking sites. Using Social Networks is important for them to keep their fans interested and involved with all things Wimbledon.
Wimbledon uses the Facebook page to interact and engage with the fans. By posting regularly on Facebook they are giving tennis fans an opportunity to share their thoughts and opinions and discuss them with other fans. It also gives the opportunity for Wimbledon to gain some feedback by posting questions, doing this they will gain more comments and likes. There is also a feature on Facebook that allows Facebook users to ask questions in a poll type format, this is another way to gain feedback.
With Wimbledon Facebook page having 921,605 fans, its no surprise that they get plenty of shares on their posts, which is a brilliant way of keeping their fan base growing. When someone shares a post on Facebook they are sharing the post with there own Facebook friend's, who may not already be a fan of the page, the post will appear on there friends news feed allowing them to see Wimbledon's post without being a fan, which may convince them to become a fan by clicking on the page and pressing 'like'.
Wimbledon is a great example of using Social Media to reach out to all their fans. Like Wimbledon many businesses are looking at ways to reach their customer and fan bases in new ways. During July and August Covenant Solutions will be releasing information aimed at specifically towards SME businesses who are looking to use these exciting marketing channels to grow their client bases. For more information visit Covenant Solutions website at http://www.covenantsolutions.co.uk