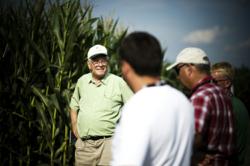 We've only tapped the surface of crop yield potential
Houston, TX (PRWEB) July 10, 2012
Dr. Albert Liptay, Director of Research and Development at Stoller Enterprises, will be making a presentation of information and awards at the 39th Annual Conference of the Plant Growth Regulation Society of America held July 22-26 in Denver CO.
The PGRSA is a networking and research conference dedicated to discussing the recent research on plant growth regulation. One of the featured speakers for the event, Liptay will present Weslaco Texas field experiment results on the impact and management of abiotic stress on soybean plants. Liptay effectively doubled yields by addressing the abiotic stress factors at various plant growth phases.
Jerry Stoller CEO and founder of Stoller Enterprises, Inc. has been a contributor and participant of the conference for many years. In 2012 his continued commitment to advancing agriculture took the form of sponsoring two conference research awards. Stoller will award a $5000 grant to a post-doctorate student who submits a research paper that most clearly demonstrates the advancement of plant growth hormone technology in crop production. Stoller will award a second $5000 grant to the author of the research paper that best outlines the most interesting "new concept" for the use and or hormonal treatment of plants.
"We've only tapped the surface of crop yield potential," explains Stoller. "It is looking beyond traditional agricultural thinking that will provide answers to yield challenges. Cutting edge research, like Dr. Liptay's presentation and innovative thinking like that fostered by Stoller Enterprises PGRSA awards perfectly aligns with our mission and focus as a company."
For more information on Stoller technology and products go to http://www.stollerusa.com. For more information about the awards or Dr. Liptay's upcoming presentation contact Stoller Enterprises at info(at)stollerusa(dot)com .
About Stoller Enterprises
Headquartered in Houston, Texas and celebrating over 41 years in business, Stoller Enterprises, Inc. is dedicated to helping producers enhance yields by maximizing genetic expression. Stoller Enterprises' R&D team is located in an independent research facility allowing them access to the most advanced plant research technology. In addition, close ties with universities throughout the nation offer Stoller's R&D team crop perspective with a regional issues emphasis. Only Stoller products contain Stoller's proprietary technology that is proven to ensure optimum plant growth by maintaining appropriate hormone balance and activity. In combination with proper nutrition and good farming practices, the result is enhanced marketable yield, significant return-on-investment and improved stress tolerance. Validated by universities nationwide, Stoller's unique formulations outperform traditional products and result in healthier, more productive crops that are better able to achieve their full genetic potential.