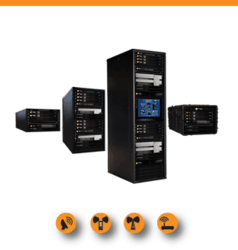 These significant expansions are a strong testimony of Advantech Wireless' capabilities to expand their platform from small to very large complex networks of thousands of VSATs supporting Carrier Class Services
Montreal (PRWEB) July 06, 2012
Advantech Wireless, a Canadian-based manufacturer of Satellite, (VSAT SYSTEMS), RF Equipment and Microwave Systems, announced today that after successfully fulfilling a recent order for $2.4M, it was awarded a new additional contract for $3 million. Both contracts add up to more than 3500 VSAT earth station equipment for a Telephone Company in Latin America that is undergoing significant network expansions to support multiple services including enterprise, COTM, mobile backhaul, and NGN nodes. Specific equipment ordered under this contract award includes the S4120 Advanced DVBS2-RCS VSAT, and the S5420 DVBS2-SCPC or RCS Adaptive VSAT, equipped with Advantech Wireless LNB and BUCs and complete IFL and Antenna kits. The VSAT system will operate in both Ku and C-Band.
The choice to select the Advantech Wireless platform vs. competitive platforms was based on the space segment and IP overall efficiencies, taking most advantages of the Customer Telephone Company's space segment and infrastructure assets. Advantech Wireless' platform was seamlessly integrated to provide cellular backhaul, COTM, IP Enterprise Services including Internet access, VoIP, VC, and Video Distribution, and Residential Services using NGN over satellite.
"These significant expansions are a strong testimony of Advantech Wireless' capabilities to expand their platform from small to very large complex networks of thousands of VSATs supporting Carrier Class Services" said Paul Sandoval, VP of Sales for the Americas at Advantech Wireless. In addition, "our Platform not only demonstrated once again to be economically expandable but also by using our Advanced Adaptive Satellite Access Technology we were able to duplicate the capacity in Mbps within the same Space Segment. At the end of the day what we have accomplished with this technology is to squeeze the most Mbps out of the Mhz, bringing significant savings in OPEX too".
Advantech Wireless, the company that built the world's first DVB-RCS system, continues to respond to market demands by developing new, powerful and highly flexible systems designed to minimize the cost of upgrading and capable of meeting the functional and performance requirements of the most demanding system configurations. Customers can purchase these products today with the confidence of knowing that they are based on Advantech Wireless' 20 years of proven field technology.
About Advantech Wireless
Advantech Wireless, an ISO 9001: 2008 certified corporation, is shaping the world with leading-edge wireless broadband communications. Since 1988, Advantech Wireless manufactures and deploys networking solutions for broadband connectivity, broadcast solutions and backhaul requirements using satellite and terrestrial wireless communications. Products include: Terrestrial Microwave Radios, Antenna Controllers, Deployable Antennas, SSPA's, Block-up Converters, Frequency Converters, Satellite Modems and VSAT (DVB-RCS) Hubs & Terminals. For further information please visit the company's web site at: http://www.advantechwireless.com/catalogue/products/vsat-hubs/.