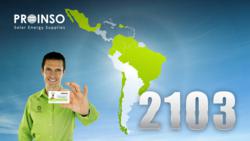 With Effitech Energia Solar, PROINSO will have an active role as a supplier of PV products in Brazil
(PRWEB) July 09, 2012
Effitech Energia Solar, based in São Paulo, Brazil, has become PROINSO's official dealer in this country. The deal confirms PROINSO's international expansion and bet on solar PV markets with a high growth potential in the medium term. Brazil is one of such markets, especially after net-metering regulations were passed in April this year.
With Effitech Energia Solar, PROINSO will have an active role as a supplier of PV products in Brazil, as it will have 'stock to promptly deliver the products ordered by customers and installers, thus avoiding long importing times,' company sources said.
The business agreement was reached between PROINSO, leading supplier of solar PV products that has delivered over 1,100MW worldwide, and Effitech Energia Solar, a firm with broad experience as a developer and supplier of PV projects providing consultancy and engineering services as well.
PROINSO announced it would keep expanding in South America. To do so, it is planning to sign agreements with local companies in Colombia, Mexico, Argentina, Chile, Peru and Uruguay, among other countries. Currently, around 40 companies from Central and South America are members of PROINSO's International Network of Qualified Installers, who supply PROINSO's products to customers in the countries where they operate.
In addition, PROINSO is carrying out projects in Peru as part of SOLAR ENERGY SOLIDARITY, an initiative that involves providing PV products and support to projects in underprivileged areas, working together with NGOs.
Currently, the company has distribution agreements with TRINA SOLAR, CANADIAN SOLAR, SCHOTT, JINKO Solar, YINGLI Solar and LDK Solar for modules, and with SMA and INGETEAM for inverters. In addition, PROINSO is a distributor of trackers and fixed structures from MECASOLAR. The company has delivered a total 1,115MW around the world, a record high that turns it into one of the world's leading companies in the sector, and the International Network of Qualified Installers, currently comprising 2,103 members, has played a key role in this achievement.
PROINSO: http://www.proinso.net
PROINSO specialises in the supply of modules, inverters, fixed structures and trackers for PV solar stations.
With international markets accounting for 88% sales, PROINSO has offices in Spain, Germany, Greece, Italy, USA, Great Britain, France, Canada, China and the Czech Republic.
Recently, the company set up branches in Australia, India and Thailand to strengthen its presence in South-East Asia.
EFFITECH ENERGIA SOLAR: http://www.effitech.com.br
Effitech Energia Solar is a firm with broad experience as a supplier and developer of PV projects providing consultancy and engineering services as well.
In addition, it carries out feasibility studies, offers training courses to professionals and mounting teams, plans and designs integrated PV projects, and provides technical support through internationally renowned manufacturers of inverters and modules.