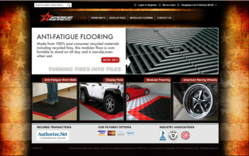 "We feel their top-quality flooring could be a great addition to any of our customers' garages."

-Wheel Pros CEO Randy White
Indio, CA (PRWEB) July 06, 2012
Swisstrax Corporation continues to expand its operations with the launch of line of American Racing branded flooring.
Swisstrax floor tiles have gained a solid reputation as being a top-quality flooring solution for garages, hangars, showrooms, and automotive events.
Swisstrax is offering American Racing-themed floor tiles for various applications. The company's anti-fatigue mats are manufactured using 100% post-consumer recycled material, including recycled tires.
An official licensed product supplier to American Racing, the Swisstrax product line also includes work mats, car display pads and a complete line of modular flooring for garages and hangars. Coming soon will be floor tiles with embedded LED lighting as well as parking guides.
Swisstrax President, Randy Nelson, enthused, "Swisstrax is thrilled to offer American Racing licensed garage flooring to marketplace. We are confident that customers who buy American Racing products will associate the same quality to the new American Racing flooring line. In the premium garage flooring market, we look forward to expanding the American Racing brand."
"We're delighted to welcome Swisstrax into our family of licensed products," said Wheel Pros CEO Randy White. "We feel their top-quality flooring could be a great addition to any of our customers' garages."
The American Racing branded floor products are now available for purchase at http://americanracing.swisstrax.com.
ABOUT SWISSTRAX CORPORATION:
Swisstrax, Inc. offers a practical and modern alternative to standard concrete and epoxy garage flooring and trade show flooring. Randy Nelson, President, directed the development of this revolutionary garage flooring product line in Switzerland for over 20 years before bringing the product to the USA in 2003. Today the Swiss engineered flooring is proudly manufactured and distributed in the USA from its headquarters in Southern California.
ABOUT AMERICAN RACING:
Founded in 1956 manufacturing magnesium and aluminum racing wheels, American Racing Equipment is one of the world's largest aftermarket wheel manufacturers and distributors. Owned today by Wheel Pros, American Racing® markets its products in more than 22 countries on four continents. In the U.S., American Racing® products are sold through a network of more than 25,000 authorized dealers. Headquartered in Denver, Colorado, American Racing is a wheel industry leader in craftsmanship, engineering, innovation and performance offering more than 140 wheel styles. For more info on American Racing, visit americanracing.com
# # #