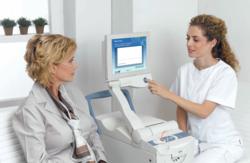 Exalenz can now promote its H. pylori breath test solution to hospitals and clinics throughout the VA System
Wilmington, Del. (PRWEB) July 09, 2012
Exalenz Bioscience, a worldwide provider of breath testing equipment for the diagnosis and management of digestive system and liver conditions, today announced it has been awarded a GSA contract.
With this contract, Exalenz' novel point-of-care breath test for Helicobacter pylori (H. pylori), the BreathID® System, is now on the Federal Supply Schedule (FSS) and Exalenz can promote its offering to physicians and procurement managers at the 152 hospitals and 802 out-patient clinics in the Veterans Administration (VA) system, who serve over 8 million enrollees.
The BreathID® Urea Breath Test System is a highly accurate, non-radioactive system for the detection of H. pylori infection, a common bacteria which can reside in the stomach and small intestine and which has been demonstrated to contribute to a variety of conditions, ranging from relatively common symptoms such as dyspepsia and abdominal pain to more severe conditions, including gastritis, ulcers and, in some cases, gastric cancer. Many patients with H. pylori symptoms take long-term prescriptions of acid suppressing medications, like proton pump inhibitors (PPIs) which do not treat the underlying infection.
Incidence of infection in the general U.S. population is approximately 25 to 30 percent. In countries outside of the United States, where many veterans have served, infection rates can be as high as 50-90%.(1) A VA-led study of over 7,000 veterans, published in 2009, showed a positivity rate of 54.5% amongst US veterans(2), highlighting the enhanced need for accurate diagnosis of the bacteria amongst this patient population.
"Given the high rate of H. pylori infection amongst US veterans and the shortcomings of common blood tests for H. pylori, which do not accurately differentiate between active and prior infection, we believe we have a compelling offering to advance patient care across the VA system," said Mark Hood, Vice President of North American Sales for Exalenz. "We are excited to be on the GSA contract and able to offer the BreathID System throughout the VA."
Conclusively eradicating H. pylori through treatment depends on an accurate diagnosis of active H. pylori infection both at initial diagnosis and in post-treatment testing. Urea Breath Testing is the most accurate non-invasive means for accurately identifying active infection. The BreathID® Urea Breath Test System delivers results in about 10 minutes making it ideally suited for point-of-care testing.
About Exalenz Bioscience
Exalenz Bioscience develops and markets medical equipment for breath testing for the purposes of diagnosis and management of digestive system and liver conditions globally. The company sells the BreathID® System together with proprietary disposable test kits. The BreathID® System has been proven effective for clinical use in identifying the presence of the H. pylori bacteria and is presently undergoing clinical testing for use in the field of liver function, liver cirrhosis, and digestive disturbances. Exalenz holds regulatory approvals in Europe and the U.S. for some of the applications and the company is currently in process of applying for approvals for additional indications.
This news release may contain "forward-looking statements." Statements in this press release, which are not purely historical, are forward-looking statements including statements concerning the Company's business outlook or future economic performance, anticipated revenues, expenses or other financial items, plans and objectives related thereto, and assumptions or expectations relating to any future events, conditions, performance or other matters. Forward-looking statements are subject to risks, uncertainties and factors including, but not limited to, changing customer demands, changing regulatory requirements, customer acceptance of the Company's products, the impact of competitive products and pricing, dependence on existing management, that technology may not function as expected and general economic conditions. The Company assumes no obligation to update the information in this release.
For more details:
U.S. Contact: Sean Hanlon, Vice President, Marketing, 508-429-2183
Investor Relations Contact: Eran Gabay, Gelbert Kahane, Investor Relations, +972-54-246-7278
1. Chey WD, Wong BY, et al. American College of Gastroenterolog y Guideline on the Management of Helicobacter pylori Infection, Am J Gastroenterol, 2007;102:1808–1825.
2. Carmack SW, Genta RM. Helicobacter pylori seroprevalence in symptomatic veterans: a study of 7310 patients over 11 years, Helicobacter, 2009 14(4):298-302.