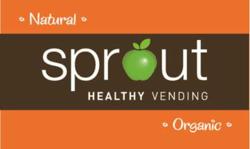 Irvine, California (PRWEB) July 10, 2012
Born and raised in Hampton Roads, Virginia and a veteran of the military, Price has been looking for a business he and his family could go into together. After his mother passed away this year Price has really made a concerted effort to lead a healthier lifestyle. "I believe sickness and disease is a direct by-product of what we consume, or fail to consume." Price shares.
Price will be graduating with his Masters Degree in Business in March 2013, and he plans to take everything he has learned and apply it to growing his successful healthy vending business further and further.
"What motivated me to become a Sprout Healthy Vending operator was the fact that I was looking for a business opportunity that would benefit people." Price says. "Because my family and I personally purchase all-natural and organic foods, this seemed to be the perfect opportunity, and it was in the price range of what we initially wanted to invest."
With the support of his wife and children he feels his community will no doubt support and welcome the healthy movement as well.
"We feel that the Sprout concept will be a welcomed commodity in my town since there are many locations we have spoken to that do not have any healthy alternatives to offer their clients."
Price continues, "I am very excited about offering healthy products to our community. We know there is a huge need, not only in our community, but also on a national scale. I know our area will benefit immensely from this program of providing healthy snacks and drinks, while educating people of the benefits of healthy eating."
"Sprout is a company offering all-natural and organic healthy options, which isn't something that is typically found especially within traditional vending companies," Price says. "I think our market welcomes this concept, because after speaking with several locations, we see that clearly healthy vending options are completely absent from our market. Typically all we see around here are the traditional unhealthy vending machines and we are looking forward to being able to offer something different and healthy!"
Co-Founder Chris Wyland states, "Lamarr and his family are the perfect fit to our growing family. They share the company's enthusiasm and passion. They are very passionate about leading healthy lives as well as spreading the healthy concept to their community. Lamarr also understands the importance of building small but significant connections throughout his community and he has already begun to do so in such a short amount of time. Here at Sprout, we look forward to watching his success continue on in Portsmouth, Virginia."
About Sprout Healthy Vending
Sprout Healthy Vending provides state-of-the-art vending technology, thousands of healthy and organic products and turnkey customer solutions for regional operators. Currently, Sprout Healthy Vending has over 70 operators in 40 markets in the U.S. with 1,000 individual locations projected by the end of 2012. To learn more about the company, locations and products please visit http://www.sprouthealthyvending.com or call (800) 450-7648.