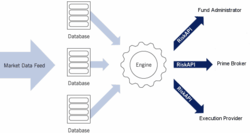 We are very excited about the integration of the RiskAPI system's functionalities within the Eze OMS, which will offer seamless and powerful risk analytics to both existing and future Eze clients
New York, NY (PRWEB) July 09, 2012
PortfolioScience, a leading risk management service provider, today announced that its RiskAPI platform has been selected by New York-based hedge fund Zimmer Lucas Partners. The fund has decided to add Portfolio Science's RiskAPI platform, an on-demand, remote risk analysis service to its suite of analytical resources.
"We are pleased that Zimmer Lucas has selected RiskAPI", said Portfolio Science President Ittai Korin, "The service allows them to easily run multi-model Value at Risk, stress-testing, and sophisticated index and options analytics. Being a part of the Eze OMS Risk Framework made this process especially user-friendly for everyone involved".
Zimmer Lucas, a current user of ConvergEx Group's award-winning order management system, the Eze OMS, connected to PortfolioScience as part of the Eze Risk Framework, a partnership set up to facilitate seamless access to risk analytics for users of the Eze OMS.
"We launched the Eze Risk Framework to offer a menu of risk vendors that help satisfy each Eze client's unique risk appetite. The Portfolio Science RiskAPI offers Zimmer Lucas the right combination of quantitative analytics, intuitive risk measures and exceptional client support" said Davide Cis, risk product manager for ConvergEx's Eze Castle Software. ConvergEx first announced the Eze Risk Framework in November of 2011.
The PortfolioScience RisKAPI service is a hosted, fully customizable application programming interface (API) that includes all necessary market data, computing power and analytics, including multi-model VaR, stress-testing, option analytics, volatility, beta, correlation and matrix analysis. RiskAPI is accessible via Excel as well as the .Net and Java frameworks.
"We are very excited about the integration of the RiskAPI system's functionalities within the Eze OMS, which will offer seamless and powerful risk analytics to both existing and future Eze clients", Korin said.
About PortfolioScience:
PortfolioScience specializes in risk management technology for financial institutions, investment services, and hedge funds. The company's products allow fund managers, portfolio managers, and traders to access powerful risk analysis capabilities on-demand. PortfolioScience creates turn-key risk management systems for institutional financial services, allowing them to provide their clients with portfolio risk analysis services virtually overnight. Founded in 2000, the company serves clients in the Americas, Europe, Asia, and Africa spanning the brokerage, fund administrator, and hedge fund industries. The PortfolioScience tool set has been featured in Barron's, Business Week, Forbes and more. For more information, please visit http://www.portfolioscience.com.
About ConvergEx Group
ConvergEx Group is a leading technology company providing mission‐critical proprietary software products and technology-enabled services to asset managers and financial intermediaries globally. Its products and services span the investment life cycle and are designed to enable customers to achieve improved results through operational and workflow efficiencies, execution and analytical tools and highly personalized service. The firm serves more than 4,000 customers accessing over 100 global markets. Formed in 2006, the firm has over 1,250 employees located in 23 cities throughout the Americas, Europe, Middle East, Africa and Asia‐Pacific.
ConvergEx Group includes ConvergEx Execution Solutions LLC (member NYSE/FINRA/SIPC); LiquidPoint, LLC (member CBOE/SIPC); G‐Trade Services LLC (member FINRA/SIPC); Westminster Research Associates LLC (member FINRA/SIPC); Eze Castle Transaction Services LLC (member FINRA/SIPC); ConvergEx Prime Services LLC (member FINRA/SIPC); Eze Castle Software LLC; RealTick LLC; ConvergEx Solutions LLC, of which Cogent Consulting, ConnEx, Jaywalk and LDB are divisions; ConvergEx Limited in the UK and Australia; and ConvergEx Asia Pacific Limited in Hong Kong. ConvergEx Group, LLC is a subsidiary of ConvergEx Holdings, LLC. Additional information is available at http://www.convergex.com.