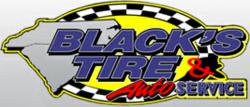 Black's Tire and Auto Service takes pride in its communities by promoting a long history of charity sponsorships and becoming a dedicated sponsor in the annual racing event
(PRWEB) July 06, 2012
Locally owned Black's Tire and Auto Service took charitable duties of one of North Carolina's premier racing events: the NC Education Lottery 200- Part of the NASCAR Camping World Truck Series, the fifth race in the series, which takes place every spring and was held this year at the Charlotte Motor Speedway.
Black's Tire and Auto Service takes pride in its communities by promoting a long history of charity sponsorships and becoming a dedicated sponsor in the annual racing event. BTS Racing and its partner RBR Enterprises team up once again with driver David Reutimann racing TK92-05 Chevrolet with Black's Tire and Auto Service sponsorship featured prominently on the truck's quarter panel. Reutimann and his team did well this year in the race.
Black's Tire and Auto Service is a locally owned and operated community business and combines unbeatable automotive services and quality tires at wholesale prices at 32 locations across North and South Carolina. For additional information about the company, or to request an online quote, visit its website at BlacksTire.com. The NC Education Lottery 200 is an annual racing event that benefits the NC Education Lottery and elementary school children providing scholarships and funding educational needs across the state.
About Black's Tire and Auto Service: Locally owned and operated since 1929, Black's Tire Service is located in Whiteville, NC, with over 30 locations including a central distribution center, a wholesale center and retail and commercial locations providing auto repair services and tires Charlotte NC. W Crowell Black founded his small family business that for over 80 years has grown as a leader in giving back to the community through charitable events and sponsorships. They are located throughout Southeastern North Carolina and Northeastern South Carolina to serve the tire and vehicle needs of its customers. Black's has your back!