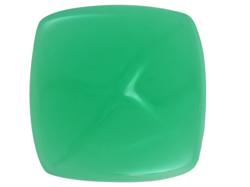 The popularity of this gemstone has sky-rocketed in the last few years making it hard to get your hands on.
Knoxville, Tenn. (PRWEB) July 09, 2012
Jewelry Television®, the nation's leading broadcast retailer of jewelry and loose gemstones, will hold an exclusive, gemstone-only event called Treasures of Tanzania from July 11 through 13. This three-day occasion offers rare stones from Tanzania such as the Merelani Mint Garnet, sunstone, tanzanite, Masasi Blue and Bordeaux, Green Opal, zircon and tsavorite.
Tanzanian Green Opal will make its grand debut during this event. This gemstone is mined in Arusha, the same Tanzanian region as Tanzanite. Discovered in the 1960s, Tanzanian Green Opal has never been available at JTV until now. The exquisite stone is 100 percent opal with a natural green coloring.
"We can't think of a more opportune time to introduce Tanzanian Green Opal than at this event," said Chassidy Morrow, gemstone buyer at JTV. "The popularity of this gemstone has sky-rocketed in the last few years making it hard to get your hands on. However, JTV was able to secure the precious stone and offer it to our customers."
Another gemstone making an appearance during Treasures of Tanzania is Merelani Mint Garnet. This rare stone has been offered at JTV before, but after many months of being sold out, it has returned. Named for its color and where it is mined, Merelani Mint Garnet comes from the Merelani Hills, the same area where Tanzanite is mined, and shines a brilliant mint green. Extremely scarce, this stone is a slightly different hue than its better known relative, Tsavorite Garnet.
Larry Pereg, global gemstone enthusiast and expert, will be on air for the first time at JTV. Throughout his extensive career, Pereg has visited gemstone mines in Brazil, India, Asia and Africa. His knowledge and expertise will help customers get a better grasp of the distinguished gemstones shown.
For more information about the Treasures of Tanzania event, Tanzanian Green Opal or Merelani Mint Garnet, visit http://www.jtv.com.
About Jewelry Television®
Jewelry Television® (JTV) is the only broadcast shopping network that focuses exclusively on the sale of jewelry and gemstones. The privately-held company was founded in 1993 and broadcasts high definition programming 24 hours a day, seven days a week, to more than 80 million unique households in the U.S. Jewelry Television® was recently ranked the 13th largest retailer of jewelry in the U.S. by National Jeweler. JTV.com is the fifth largest jewelry destination on the internet according to Internet Retailer's Top 500 Guide for 2010. For more information, visit JTV.com.
# # #