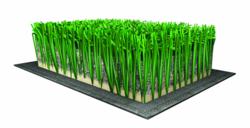 Vista, CA (PRWEB) July 09, 2012
EasyTurf, the nation's leading supplier of synthetic turf for commercial and residential applications announces the addition of Virginia Playground Services to its dealer network serving all areas of the Virginia market.
This appointment enables EasyTurf, a division of FieldTurf, the world leader in artificial turf, to bring the highest quality synthetic grass to a growing market with a reputable, locally based dealer for Virginia.
Virginia Playground Services, Inc. established its solid reputation through notable work in the region.
"We're excited about the potential growth of both EasyTurf and Virginia Playground Services through this partnership," said Andy Cromer, Director of Dealer Development at EasyTurf. "We're also pleased to bring our superior synthetic grass to a new family of customers."
Massive growth and product advancements in the synthetic grass industry helped to create this unique business opportunity with the most recognized, cutting-edge and trusted synthetic grass company in the world.
As an EasyTurf dealer, Virginia Playground Services has an opportunity to install the highest quality synthetic grass and gains access to FieldTurf's innovative technology in product development. Their collaboration with EasyTurf ensures the entire Virginia market receives first-rate synthetic grass products with exceptional customer service.
About EasyTurf
In May 2010 EasyTurf, Inc. a long-time distributor of FieldTurf's line of landscaping products and a recognized leader in the artificial grass industry, became the national brand of FieldTurf's landscape, pet, playground and golf artificial grass products. The partnership allowed FieldTurf to rapidly expand its existing dealer network and accelerate sales and distribution of FieldTurf's landscape products on a national level to homeowners, municipalities, schools, businesses and the military.
Additional Authorized Dealer Opportunities are still available throughout North America. Interested parties should contact Andy Cromer, Director, Dealer Development at 1-877-838-1587 or complete the online form at http://www.easyturf.com/dealer.
###