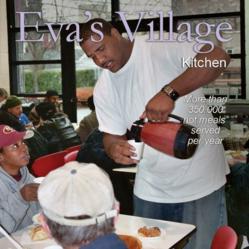 Paterson, New Jersey (PRWEB) July 08, 2012
"Prior to the economic recession we were serving close to 300 hot lunches every day, now we are seeing our numbers reach 400 hungry people coming to Eva's Kitchen on a daily basis!" states Marie Reger, Executive Director of Eva's Village, a nonprofit providing more than a dozen multi-faceted anti-poverty programs in Paterson, NJ.
So far in 2012 the number of hot lunches served daily at Eva's Kitchen, the soup kitchen program at Eva's Village, continues to climb increasing 6% over last year, bringing many new faces and new stories of hardship. Eva's Village depends on the generosity of individuals, organizations, corporation and foundations to help them to care for the hungry, the homeless, the addicted, the sick and the poor.
In the past year, the amount of grants and donations received specifically for the kitchen program at Eva's Village has decreased by 43%. The kitchen program has a yearly budget of over $700,000 and serves more than 1,200 meals a day, 365 days per year. This program not only serves a hot lunch each day at noon but provides all of the meals (breakfast, lunch and dinner) for their clients living in their shelter and addiction treatment programs (more than 250).
Many corporations have corporate giving programs, donating some of their profits or resources to charity. The Fund-A-Meal(FAM) program at Eva's Village is a new corporate sponsorship opportunity, which assists the organization in feeding the men, women, and children in Eva's sheltering and feeding programs for one day. Corporate sponsorships allow sponsors to directly touch the organization's mission and advance its goals to combat hunger and homelessness. I addition to sponsoring the kitchen program, corporate volunteers serve the noon meal on the day of their sponsorship.
In return, Fund-A-Meal sponsors are entitled to receive various benefits including, but not limited to, signage in Eva's Kitchen, visibility on Eva's social network sites, honorable mention in the organization's quarterly news publication and press exposure. "Many businesses are looking for ways to truly give back to the communities they serve," states Marie Reger. "Our FAM program gives them the opportunity to get their brand recognized in a positive way, while helping hundreds of impoverished individuals receive the care they need for at least one day. FAM is one of those great opportunities that corporations can 'put their signature on' that will reach thousands and formidably demonstrate their commitment to being a socially responsible business!"
Founded by Msgr. Vincent E. Puma in 1982 as a response to the poor and homeless in Paterson, New Jersey, Eva's Village (http://www.evasvillage.org) is a non-profit comprehensive social service organization with a mission to feed the hungry, shelter the homeless, treat the addicted and provide medical care to the poor with respect for the human dignity of each individual. Through almost three decades of service, Eva's Village has established a commendable record in facing community challenges and changing the lives of the hungry, homeless and addicted. It has grown from a simple soup kitchen to become the most respected anti-poverty program in the state and now includes fourteen integrated programs housed in numerous buildings spanning several city blocks in downtown Paterson. Eva's Village also stands out among charitable organizations by receiving five consecutive 4-star ratings for sound fiscal management from Charity Navigator, an independent non-profit monitor (http://www.charitynavigator.org/).
For more information about the Eva's Village Fund-A-Meal program, call or email Cyndi Roberson at 973.523.6220 ext. 226 or Cyndi(dot)Roberson(at)evasvillage(dot)org. To find out more about Eva's Village go to http://www.evasvillage.org.