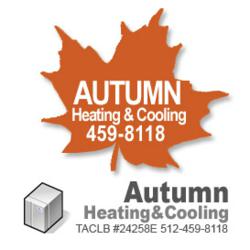 The single greatest efficiency improvement you can make to your air conditioning system is a programmable thermostat, no single improvement can yield greater savings related to the cost of installation
Austin, TX (PRWEB) July 10, 2012
Autumn Heating & Cooling, a leading air conditioning provider for Austin, TX, and surrounding areas, urges residents throughout Texas to implement energy conservation practices in their homes. With summertime temperatures breaking 100 degrees and the Texas Public Utility Commission's recent vote to raise the electricity price cap by 50 percent beginning this summer, electricity costs are expected to grow.
Electricity Price Cap Increase To Begin in August
The Texas Public Utility Commission has voted to raise the wholesale energy rate cap from $3,000 megawatt-hour to $4,500 beginning August 1, 2012. The move is hoped to spur the construction of new power plants in the area in response to the state's growing need for electricity. As recently published in Bloomberg Businessweek, "Texas officials say the state must boost generating capacity to meet growing demand in the next few years to help avoid rolling blackouts during peak periods such as hot summer days." However, there is no guarantee that new construction will occur.
Methods for Energy Conservation
Cooling costs account for the greater portion of most homeowners' electricity bill. Therefore reducing air conditioning usage is the most effective way to conserve energy and dollars. Central air conditioning systems with an automatic timer provide a great opportunity to do so by raising the thermostat temperature when residents aren't at home, consuming less energy overall than if continuously set on a lower level. For systems without a timer, the thermostat can be replaced with a programmable one. As Michael Vacek of Autumn Heating & Cooling states, "the single greatest efficiency improvement you can make to your air conditioning system is a programmable thermostat, no single improvement can yield greater savings related to the cost of installation."
Another method for maximizing the benefits of air conditioning systems while minimizing the cost of electricity is replacing systems over a decade old. According to Austin Energy, current systems use 40% less energy than older models. While a new system may be a higher cost upfront, the cumulative monthly savings make it a greater money saving option in the long run while immediately cutting back on energy usage.
About Autumn Heating & Cooling
Autumn Heating & Cooling is the premier heating and air conditioning service, repair, and installation provider for the entire Austin metro area, including Round Rock, Cedar Park, Leander, San Marcos, Georgetown, Lakeway, Hutto, and more. Autumn provides customers with top of the line products and free service estimates.
Autumn Heating & Cooling
2001 Windy Terrace #D
Cedar Park, TX 78613
512-459-8118