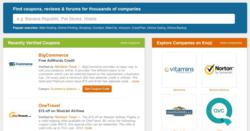 (PRWEB) July 08, 2012
Knoji, a consumer information site, today rolled out a new site structure aimed at simplifying navigation and discovery for consumers who are searching for reviews and ratings on companies. The new structure includes new top level categories aimed at providing an intuitive starting point for consumers who are seeking information on a company, type of company, or product type.
The relaunch marks the end of a 30-day project sprint in which the company re-assessed its existing site structure, which was targeted at a more general audience and general knowledge topics. Knoji's new mission is to provide a Wikipedia-type experience for community-powered knowledge sharing, but with a specific focus on consumers, companies, and products. The design challenge faced by the company comprised of maintaining and strengthening its existing brand as a credible source of general factual knowledge while increasing its focus on consumers and company information. The result is a new navigation system with the following primary categories:
Babies & Kids
Business & Office
Department Stores
Electronics
Fashion
Health & Beauty
Home
Online Business
Personal Services
Sports & Fitness
Travel & Tickets
The re-architecture project will come in two phases. The first phase, just completed, involved creating a taxonomy to serve as the foundation of Knoji's content and navigation going forward. The next phase involves integrating Knoji's world-class content generation platform with the new taxonomy to create an unparalleled platform for generating and sharing knowledge on any consumer-related knowledge topic. The company notes that the existing categorization scheme for articles will continue to exist and develop on its own, but that the primary site navigation will focus on this new system.
Knoji is aggressively expanding its team of writers and experts to write on topics relating to the above categories. The program, called the Knoji Expert program, provides an opportunity for skilled and knowledgeable writers to build a reputation as a consumer expert while earning competitive rates for blogging about topics they enjoy writing about. Consumer Experts gain access to a range of projects which offer varying levels of compensation, such as writing product reviews, answer consumer questions, and verifying coupons. To inquire about opportunities, visit the company's website and apply for a position.