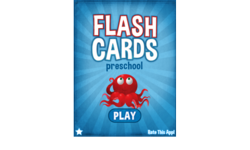 Portage, MI (PRWEB) July 06, 2012
Youngsters can practice fun, beautifully designed flash cards that will boost their confidence while developing their memorization skills using Learning Gems' new educational Flash Cards – Preschool app. This exciting new educational flash cards app can be downloaded from the Amazon Kindle, Barnes & Noble and Samsung app stores as well as from Google Play.
The more than 130 flash cards that are divided into 13 different categories display a picture for the child to guess. Then, by tapping the screen, both the spelling of the word and an audible pronunciation are provided. These flash cards practice learning through repetition with youngsters. They develop a child's comprehension skills as they learn about things under the sea, at the zoo, on a farm and in the classroom. Alphabet practice is another topic to choose from along with two options of numbers, 0-9 and 10-20. Vegetables, fruits, colors, shapes, sports and money are also categories. And, each time the child plays, the cards are shuffled to provide different experiences.
Through seeing an image along with the spelling and then hearing the pronunciation, the child will memorize and then later be able to recognize fish, a bear or a cow, for example. They will also learn what a kiwi is along with a soccer ball and a bottle of glue. The abundance of cards covering an array of topics will surely keep them entertained while learning.
Portage, Michigan-based Learning Gems, a sister company to Blue Fire Media who specializes in web design, web marketing and SEO, offers a variety of other educational apps for children. The alternatives to Flash Cards – Preschool teach children Spanish, spelling, math, colors and shapes. Learning Gems also provides entertaining games geared toward young children as well. This professional team of individuals made up of programmers, school teachers, graphic designers and copywriters, illustrate their passion for educating children in these visually pleasing apps that surely will not disappoint.
Learning Gems' new app, Flash Cards – Preschool, is a fun way to entertain youngsters that holds educational value. This downloadable new app offers a variety of topics with colorful, fun graphics that will challenge preschool-aged children while teaching them through repetition and memorization.
About Learning Gems
Learning Gems is a team programmers, school teachers, graphic designers and copywriters whose goal is to help making learning fun. They specialize in making engaging and entertaining educational apps for kids. To learn more about Learning Gems, visit http://www.learninggems.com.
About Blue Fire Media
Blue Fire Media group is a Kalamazoo Web Design company who also specialize in SEO, Internet marketing and social media marketing. To learn more about their services, visit http://www.bluefiremediagroup.com.