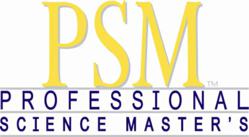 Keene, NH (PRWEB) July 10, 2012
The two master's degree programs in Antioch University New England's (AUNE) Department of Environmental Studies—Resource Management and Conservation (RMC) and Environmental Studies—have been approved for affiliation as Professional Science Master's (PSM) degree programs by the Council of Graduate Schools.
All of the master's programs and ES master's concentrations in the department now have PSM affiliation. A master's degree concentration within the ES program, Sustainable Development and Climate Change (SDCC), was approved for PSM in 2010.
Students in any of the programs can choose to follow the PSM track of studies or the non-PSM track of studies.
"The PSM degree recognition by the Council of Graduate Schools confirms that our master degree programs in Environmental Studies and Resource Management and Conservation effectively train our students to be both scholars and practitioners," said Jim Gruber, core faculty member and director of the RMC and SDCC programs. "Both are critical for our graduates to be able to move into their future chosen professional careers and to become leaders in their fields."
AUNE's programs are the only ones in New Hampshire that have received the PSM designation. There are 277 PSM programs in 123 institutions across the United States. Eleven of those institutions are in New England, including AUNE.
The national PSM degree program was started in 1997, with support from the Alfred B. Sloan Foundation, to help meet the demand for leaders in science- and math-related fields. PSM programs combine intensive education in advanced sciences and mathematics with training in professional business skills, such as marketing, communications, and regulatory affairs.
Find more on the Professional Science Master's program.
Antioch University New England's Department of Environmental Studies
In 1971, AUNE offered the first environmental studies program in the country. Its Department of Environmental Studies has a history of delivering visionary, progressive and interdisciplinary programs aimed at helping students solve some of today's most complex environmental challenges. The department offers a master of science degree in environmental studies with concentrations in conservation biology, advocacy for social justice and sustainability, science teacher certification, sustainable development and climate change, and self-designed studies. It also offers a master of science degree in resource and conservation management and a PhD in environmental studies
About Antioch University New England (AUNE)
Antioch University New England offers highly respected doctoral, master's, and certificate programs in education, environmental studies, management and psychology. Located in Keene, New Hampshire, this unique institution serves approximately one thousand students each year. Our graduates have gone on to be leaders of positive change, working toward a more just and sustainable society. Founded in 1964, Antioch University New England is the oldest of Antioch University's graduate campuses. Learn more at: http://www.antiochne.edu.
About Antioch University
Antioch University is a bold and enduring source of innovation in higher education. Spanning the United States, our campuses, the university-wide Antioch Education Abroad and the Ph.D. in Leadership and Change programs nurture in their students the knowledge, skills and critical thinking to excel as lifelong learners, democratic leaders and global citizens who live lives of meaning and purpose.