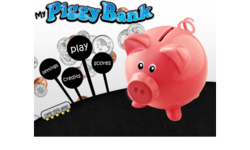 Portage, MI (PRWEB) July 07, 2012
Children can familiarize themselves with the values, appearances and names of U.S. coins when they play Learning Gems' educational app, My Piggy Bank. This app, appropriate for preschoolers, kindergarteners and first graders, can be purchased from the Apple, Amazon Kindle, Barnes & Noble and Samsung app stores and also from Google Play.
My Piggy Bank currently features 8 levels, with more to come soon. Levels start by challenging youngsters to put all dimes into the piggy bank, but dimes will be illustrated with an image rather than a word or value. The dimes are scattered amongst a pile of all U.S. coins face-down and face-up. Then, as the child progresses onto intermediate levels, they will be asked to match all coins from a pile to their appropriate corresponding image. In this style of game play, the child again learns what both the front and back of the different U.S. coins look like. Then, a more advanced level will ask the child to match the words penny, nickel, dime and quarter to their correct values of 1 cent, 5 cents, 10 cents and 25 cents.
In addition to learning names, values and appearances of the different U.S. coins, My Piggy Bank is an introduction to skip counting by 5s and 10s. And, reading level is irrelevant as the game provides voice-overs making it more accessible for preschoolers, kindergarteners and first graders at their different skill levels.
My Piggy Bank, a cute, fun and visually appealing educational app from Learning Gems, provides a resource for children that teaches the value of money through repetition and positive reinforcement. It exercises math skills, practices counting out exact change and introduces the concept of skip counting by 5s and 10s.
Learning Gems is a sister company of Blue Fire Media. Blue Fire Media specializes in web design, web marketing and SEO. Both companies are based out of Portage, Michigan. Learning Gems is composed of a professional team of school teachers, programmers, graphic designers and copywriters who possess a passion for making valuable educational apps and games for children. Other apps created by Learning Gems teach children colors, shapes, Spanish and spelling.