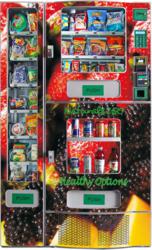 Lexington, North Carolina (PRWEB) July 08, 2012
With the current concerns over obesity in adults and children, the overall decline of health due to poor eating. Lexington resident Caroline Mocko decided to do something. "I wanted to be involved in a business that helps people's lives and invites a healthier lifestyle. I'm not out to change the world, but rather offer a healthier choice," explained Caroline. She found Naturals2Go, a healthy vending company based in Idaho Falls, Idaho and feels this is the perfect fit.
The Naturals2Go machine employs the latest in vending technology offering purchases by credit and debit cards in addition to cash. It also houses a virtually silent cooling unit allowing appropriate selections to stay cold and fresh. The cellular technology provides Caroline with real time reporting daily so she can stay on top of low selections quickly. The machine holds 164 snack units and 140 drink units, dimensions are 70" tall, 27" deep, and 30" wide. There is even an option for a "side arm" that will vend meal type products. The power used by the machine is equivalent to a 100 watt light bulb.
"C & J Vending provides our customers with everything they need, we do all the work, and there is no cost for having this machine in your business. We encourage our customers to be a part of the product selection process so that their employees and or customers find just what they want when they set up to a Naturals2Go vending machine," said Caroline. "This is really a great way to encourage healthier snack and drink choices during busy working hours."
Caroline and her husband John, a Lutheran Pastor, moved from Colorado to North Carolina in 2005. After owning her own marketing and advertising company, working in television, and as a real estate broker in Colorado, Caroline is very excited to represent the Naturals2Go family here in North Carolina.
If you would like more information on a Naturals2Go healthy vending machine, please contact Caroline Mocko with C & J Vending: 336-596-8665 or email: mocko(at)windstream(dot)net