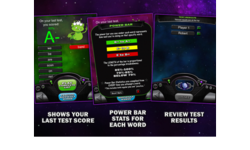 Portage, MI (PRWEB) July 08, 2012
Spelling Space – 1st Grade, an app for tablets, encourages youngsters to practice and sharpen their spelling skills through interactive game play that features an exciting outer space theme. This educational app from Learning Gems is intended for those at the first grade spelling level and can be found in the Apple, Amazon Kindle, Barnes & Noble and Samsung app stores as well as from Google Play.
Children are able to create their own user name and choose from 30 different spelling lists allowing them to practice the 300 high-frequency words featured in the game. Each time a test is taken a grade is recorded and stored so progress can be monitored. The child can either focus on one list in its entirety or they can choose to practice words that are of difficulty to them. To keep things challenging, as lists are revisited, the order is changed and, to learn from mistakes, when a word is spelled incorrectly, the right answer is provided.
This game features fun, vibrantly colored graphics and a cute alien to engage a child's attention. It also features an interactive mini-game that kids enjoy. To participate in this mini-game, each time a word is spelled correctly, the child is rewarded with an asteroid. Then, once the spelling test has been completed, a spaceship will fly across the screen for the child to shoot at with their asteroids. If they hit the ship enough times it will be destroyed.
This educational app is useful for families or classrooms. It provides a fun way to get children interested in practicing spelling and provides a way to track and record progress. For a complete list of words included in Spelling Space – 1st Grade, you can visit the Learning Gems website at http://www.learninggems.com.
Portage, Michigan-based Learning Gems, a sister company of Blue Fire Media who focuses on web design, web marketing and SEO, is made up of a team of individuals determined to provide educational apps for children. This group of teachers, programmers, graphic designers and copywriters has created other apps that allow children to practice math, Spanish and other basic concepts.