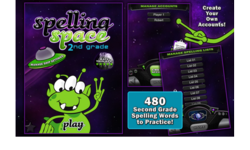 Portage, MI (PRWEB) July 09, 2012
If your youngster enjoyed playing Spelling Space – 1st Grade, good news, Spelling Space – 2nd Grade is on the way. This educational app from Learning Gems will encourage kids at the 2nd grade level to practice spelling through interactive game play. This outer space themed spelling game made for tablets will soon be available in all app stores.
Spelling Space – 2nd Grade allows each child to have their own account, giving them access to 30 spelling lists featuring 480 different words to practice. As the child practices each list, a grade is recorded so progress can be monitored. Depending on how well a child does on one list, they can choose to revisit the list completely, or they have the option to only focus on the words they struggled with. With each revisit the words appear in a different order to keep the game challenging. Additionally, to help youngsters learn the spelling words, whenever an incorrect answer occurs, the proper spelling is given.
This fun game is packed with bright graphics, an outer space theme and an alien to keep a child interested. The same mini-game present in Spelling Space – 1st Grade is present in Spelling Space – 2nd Grade. This mini-game starts with each correctly spelled word awarding an asteroid. Then, when the spelling list is finished, a spaceship flies by that the child can shoot at with their asteroids. Enough hits and the space ship will be annihilated.
Useful in classrooms and at home for extra practice, Spelling Space – 2nd Grade is a fun educational app that will strike a child's interest in spelling. In addition to having fun while learning, the grade recording feature of this app provide a way to monitor progress. Keep an eye out for Spelling Space – 2nd Grade's appearance in app stores.
A sister company of Blue Fire Media is a West Michigan web design company that specializes in in Internet Marketing and SEO, Learning Gems creates educational apps for children. Their collection of apps provides ways to teach children about math, Spanish and basic concepts like colors, shapes and U.S. coins. Learning Gems' team is made up of school teachers, programmers, graphic designers and copywriters who all share the same concentration of teaching children through attractive, fun educational apps for kids.