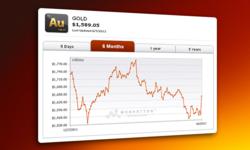 Manhattan, NY (PRWEB) July 10, 2012
Manhattan Gold & Silver is pleased to announce a revamped design for its dynamic historical price charts for precious metals.
Data in the 5 days, 6 months, 1 year, and 5 years charts updates twice per day in accordance with the London Bullion Market Association and the London Platinum and Palladium Market, both of which set the price of precious metals twice per day (with the exception of silver, which is only set once per day). These valuations are known as the London fixing – which is regarded the world over as the most authoritative price for gold and other precious metals.
There are price charts available for all the precious metals that Manhattan Gold & Silver deals in, including:

Historical Silver Prices
Historical Platinum Prices
Historical Palladium
The charts record the final London fixing price for each day, stretching all the way back to 1985 for gold and silver, and 1990 for platinum and palladium. Default date ranges are provided for easy viewing. However, users can input their own date ranges to build custom historical price charts. This is an excellent way to learn about the fluctuations in precious metals prices over the last several decades.
As part of a website update, the precious metal historical price charts have all undergone design and functionality changes to make them better than ever. Changes to the charts include:
A large, single chart featuring a tabbed layout. The older iteration displayed four smaller, separate charts to cover default date ranges, in addition to a fifth, user-generated chart. The new tabbed layout makes the charts easier to read and navigate, while also decreasing the load time for the chart page.
Data points are now visible on the charts that display the date and precious metal price when hovered over.
In addition to these updated historical charts, users can continue their research on precious metals by utilizing the rest of the Manhattan Gold & Silver website which includes features like conversion charts, live precious metals prices, an exhaustive blog, and more tools, apps, and content.
About Manhattan Gold & Silver
Manhattan Gold & Silver (MGS) started as a small, family-owned operation in 1985 and has grown into one of the country's leading precious metal refining firms. Over the years, it has stayed true to its family roots. The core team—who hand-sorts metals for quicker onsite transactions and gives price quotes to potential customers—has remained unchanged since the company's inception. MGS serves all types of businesses with refining needs by processing metals from all types of applications. MGS clients are typically jewelers, pawnbrokers, dentists, or any number of industrial firms that produce precious metal byproducts as a result of the work they do—such as silver scraps left over after photographic processing, jewelers polishing material, medical devices and apparatuses, etc. MGS works with platinum, gold, palladium, and silver.
With onsite melting and assaying facilities clients can be assured of a quick transaction for any amount of precious metals. With exchange rates set daily to the London Fixing, clients are also assured a fair price. Aside from being a major sponsor of the New York State Jewelers Association, Manhattan Gold & Silver is also active in the community and philanthropic giving – sponsoring many local charity events and organizations.