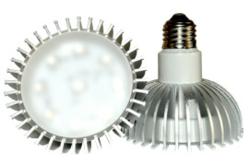 "Our expanded line of LEDs allows One Stop Green to provide a more complete lighting solution for our customers," says Greg Boyce, COO of One Stop Green, "and these lights are some of the most affordable and have some of the best quality in the industry."
Houston, Texas (PRWEB) July 06, 2012
One Stop Green has further expanded its line of residential and commercial LED lighting by adding many new LEDs for different fixtures in both dimmable and non-dimmable version.
The new line of LED lighting provides for even greater energy savings and gives customers more options when choosing new LED lighting for their home or business. The dimmable lighting features for the LEDs allow for even greater energy savings, since energy use can be cut further by using the lights partially dimmed.
The new line of LEDs is compatible with nearly any lighting fixture, including G4, GU4, GU5.3, GU10, E26, and many others. The average LED bulb reduces energy consumption by 80% compared with comparable halogen bulbs. The bulbs also come in many common mounts, ensuring the bulb will fit into your fixture.
"Our expanded line of LEDs allows One Stop Green to provide a more complete lighting solution for our customers," says Greg Boyce, COO of One Stop Green, "and these lights are some of the most affordable and have some of the best quality in the industry."
One Stop Green, LLC facilitates environmentally friendly improvements to residential and commercial properties through distribution of green, energy efficient products and services. They offer every product needed for sustainable energy independence enabling homeowners, businesses and commercial property owners to master their usage by reducing waste and implementing efficient energy consumption methods. Their goal is to provide user friendly and practical long-term solutions to existing inefficiencies and their carefully selected products and professional installers offer a higher level of satisfaction and service for their customers.
Contact:
Nathan Kaufman
http://www.OneStopGreen.com
P: 877.449.9110|O: 713.541.2739|C: 210.846.5900
# # #