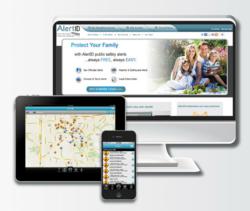 AlertID is a unique platform that is making a dramatic impact in helping to reduce crime and protect families. Chris Perry, Director for the Nevada Department of Public Safety
Las Vegas, NV (PRWEB) July 10, 2012
The many recent high profile sex offender cases in the media have put families on high alert about where sex offenders are in their neighborhoods, according to Keli Wilson, Founder of AlertID.
AlertID, a free online and mobile service for members and public safety officials, now provides alerts from state sex offender databases ("SODs") for more than 144 million people or more than 45 percent of the US population. Today, AlertID is announcing the availability of sex offender alerts to residents in Illinois and Florida in addition to states already supported including California, Texas, New York, Pennsylvania, Maryland, Nevada, Idaho and Arizona. Additional states will be announced soon.
The National Center for Missing and Exploited Children® reported in its Map of Registered Sex Offenders dated November 4, 2011 that there were more than 745,000 registered sex offenders in the United States. States are required by The Adam Walsh Protection and Safety Act of 2006 to provide public access to their SODs but are not required to notify residents if an offender's information, such as his or her address, changes.
With AlertID, members can view a local map showing where registered offenders are in their neighborhoods. If an offender moves into their neighborhood or near their school, AlertID will automatically send an alert. Also included in each alert are important safety tips. If traveling to other areas, members can access the same information with AlertID's free mobile app.
"Providing universal access to SOD information and alerts helps protect children," said Ken Wiles, AlertID's Chief Executive Officer. "This information helps families make informed decisions about the places that they take their children and should be considered whether they believe they know the area or not."
The information contained in the SODs is only to be used to protect families, and AlertID members determine whether they want to receive the alerts and for what geographic areas.
"AlertID is a unique platform that is filling a void that exists between public safety and the community we serve. It has made a dramatic impact in helping to reduce crime and protect families by directly involving the community in policing efforts" Chris Perry, Director for the Nevada Department of Public Safety.
About AlertID, Inc.
AlertID's mission is to make the country's public safety information universally accessible, helping people protect their families and communities. AlertID provides every-day protection for your family and community at no cost to you.
AlertID has proven to reduce crime and uses the newest technology to create two-way communications between citizens and federal, state, and local authorities to provide immediate information on crime, terrorism or natural disasters that can threaten the safety of your family and community.
To see recent media stories, or to sign up for a free account, please visit http://www.AlertID.com