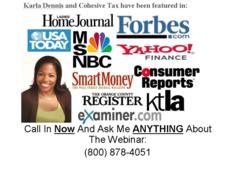 Karla has been a tremendous help to my family in realizing the importance of pro-active tax planning. I give Karla Dennis and the staff members at COHESIVE™ the highest possible recommendation as your tax professional.

-David Tombs, Phd -CA
(PRWEB) July 06, 2012
Karla answers the questions she receives from the public and her many followers, about the most confusing topics to deal with for business owners and entrepreneurs. This is amongst the most common series of questions Karla receives.
Click Here To "Like" And Listen To The Webinar
Find out what to do to about those pesky tax issues that concern business owners or property owners. Prepare for the future, and how it relates to finances.
Listen to the questions that everyday business owners and entrepreneurs asked Karla and listen to her answer them in turn live.
Listening to what others asked is extremely helpful to those in similar situations in their businesses because it makes for a great learning opportunity.
This is where Karla responds to you and her extended family.
Join and listen.
Click Here To "Like" And Register For The Webinar.
Karla Dennis is CEO and owner of Cohesive Tax™, a tax planning firm.