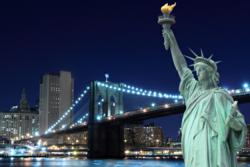 Toronto, ON (PRWEB) July 10, 2012
To celebrate the July 4th holiday, online survey site tellwut.com asked 300-400 of their voter members to identify the most iconic Americana in a number of different categories
What is American music? Rock 'N' Roll was the most popular answer with 42% of the votes. Country music was the closest runner up with 30%. Jazz, often described as America's music polled only 9% with Rap and R&B taking 7% and 6% respectively.
The quintessential American novel? Harper Lee's To Kill A Mockingbird received the most votes in this poll with 25%, closely followed by Mark Twain's The Adventures of Huckleberry Finn with 22%. Moby Dick, The Great Gatsby and Gone with the Wind also received in excess of 10% each.
The city that best defines the country: there was only one winner. New York City romped home with 63% of the vote and only Chicago came close to 10%.
The definitive American film was deemed to be The Wizard of Oz with 21% of voters choosing it over Gone with the Wind, 15%; Star Wars, 13% and It's a Wonderful Life, 12%.
37% of voters chose Coca-Cola as the definitive American brand, above McDonalds, 17%, Levis, 16% and Disney 9%. Although given the option, very few opted for the new technology brands. Of the four largest corporations to emerge from the internet revolution only Apple polled more than 4%.
Finally the question was posed - What is the definitive American icon? The winner: The Statue of Liberty, chosen by 40% of voters, over the Stars and Stripes, 21% and The Bald Eagle, 12%
And as for food, Apple Pie topped the list with 20%, narrowly beating out Hot Dogs and Hamburgers.
The complete list of questions and answers to this series of tellwut surveys can be found here
Tellwut is an online survey company providing a unique mix of both private business survey packages and an open opinion poll forum. The open forum provides voters the opportunity to vote on, or post surveys, offering online users a unique combination of survey software and a rewards program, coupled with a social network element that will facilitate dialogue, argument and conversation across an infinite number of subjects. Tellwut's business application allows companies, associations, researchers, students to send their own private surveys or canvass the tellwut voter base. Free survey trial packages are available.